Show us your newsletter that you send to customers! Here is the official story:
Harry here. I need your help.
I'm researching how MSPs, consultants, IT Pros and good old fashioned 'puter guys communicate with customers (small business owners).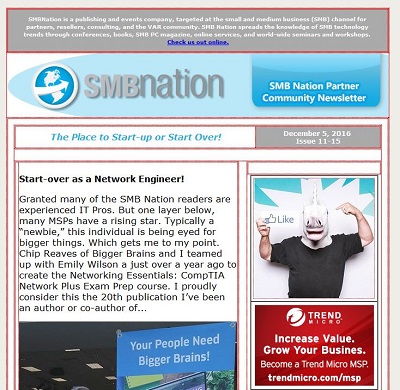 There are a couple reasons for my
Every preacher needs a pulpit to sermonize from. The other day I found an old fall conference message from 2011 that spoke to me: PIVOT! That was nearly six years ago and the early evidence was mounting the traditional SMB technology motion was pivoting away from server-side bits to cloud-based business solutions. The server box in the corner was quickly becoming the black box containing the magic of marketing analytics.
February 23, 2017 Posted by US SMB Team
When you hear the word "entrepreneur," what image springs to mind? Mark Zuckerberg in his hoodie? The young Steve Jobs in his parents' garage? The familiar faces of entrepreneurship are those of brilliant young men who are tech-savvy newsmakers.
Editors Note - this is a excellent partner/customer event in the Seattle area in a month. Please support the community (and yes- you can bring your toughest questions about Azure in small business, etc.)
Your Business, Cloud Ready in 100 Days
I recently surveyed our community and discovered something amazing! Over 40 percent of the IT community we speak with has either a relationship or interest in creating an opportunity with local/county/regional governments. Our large response rate to the survey made this statistically valid (read "not fake news") and we were pleasantly surprised. Which brings us to the point of this blog. Pursuing more government accounts means more money for MSPs, partners, resellers and consultants. It's good Azure-based recurring revenue work.
You would save money if you're using Microsoft technology. If you want to supply terabytes of space, but you only want to pay for what you use (in a vm), then you are more likely to save money. If you only want a vm, then you'd save money and all this money could be saved if you buy Azure.
During the last seven years, developers have designed state-of-the-art apps that can create a custom interface for each client, connect to many types of products, generate real-time statistics, examine factors that may affect health, sense a user's movements and automate day-to-day tasks.
PSA collaboration focuses on self-healing tickets, efficient billing and easy deployment
Toronto (PRWEB) March 07, 2017
Storage Guardian announced today
that its data storage and recovery solutions can now be accessed directly from ConnectWise Manage professional services automation (PSA) software.

Wow – I'm continually impressed every time I attend the robust annual IBM PartnerWorld conference as I recently did at The Cosmopolitan in Las Vegas. In a series of articles, I'll share those experiences with you over the next few weeks with my analyst hat firmly affixed. The purpose of this blog is to paint the overall picture.
I'd offer the PartnerWorld Leadership Conference had around 3,000 participants, many of