The SMB Nation community has done it once (New Orleans – Hurricane Katrina) and we've done it twice (Houston – Hurricane Harvey). It's time to dispatch the MSP Navy with resources to help long-time SMB Nation member Ulrich Kirkegaard. He has lost everything this week including his home and business in Lahaina, Maui.
Kirkegaard shared the following with me in an email exchange earlier today.
A busy and Jon Murchison, the CEO of Blackpoint, caught up with us at the recent Pax8 Evolve conference in Denver, CO. This first time event rocked (must have been an event team with over 100 staffers to pull that off. Blackpoint Cyber is making a splash and also announced its a Pax8 partner at this event.
Hear Ye! Hear Ye! You can now register to participate in the next MSP Rescue roadshow workshop. It's July 27, 2023 in Princeton, NJ – a location that is an epicenter between several large cities and easy to get to.
Why Attend?
It's very simple: you asked for it. Over the past year with a number of economic fluctuations, the consensus was we need an in-person one day gathering to talk about everything MSP in 2023. You'll enjoy our expert panelists presenting spot-on strategies for leveraging the madness confronting all MSPs.
We caught up with a busy Jeffrey Goldstein - Managing Director at Queue Associates recently at the Ingram Micro Global Cloud and Innovation Summit in Las Vegas. Goldstein's technology practice (focused on Microsoft Dynamics) recently celebrated its 30th Anniversary. Catch the conversation about his global footprint that includes Europe and Asia! Learn more about this rock star and his company HERE.
Wait! What? It's already the second half of 2023?!?! Not only is that true but the first half went very fast. So its time for my predictions before 2024 sneaks up on us (YIKES). These are in no particular order and I'd love your feedback (just hit reply to this newsletter).The categories are Economic Anxiety, Marketplaces, MSPs and AI, Events and Cybersecurity.
The pandemic delayed Pax8 conference has launched with a bang. For a first-time event, it has an impressive 1,100+ attendees and insightful keynotes plus breakout labs.
Let's start with Jay McBain's 6 Trends To Watch. A couple of highlights are:
Today customers have seven (7) partners that they work with compared to
Long-time and loyal SMB Nation member Ulrich "Uli" Kirkegaard endured a life alter event in early August with the Maui fires. He lost his home and business as did many of his beloved small and medium business (SMB) clients. The purpose of this content is to properly introduce you to Uil and have you discover and share with others what challenges face this well-respected managed services Provider (MSP).
One way you can help immediately is to contribute funds are you are able. Then further down the road he can use supplies and even feet-on the-ground (something we have done much of since Hurricane Katrina 18-years ago). I plan to visit Maui in early December or early 2024 (join me!).
Watch the conversation HERE!
You may assist Uli and his family at this GoFundMe site https://gofund.me/d8d9d53d
Where to start the HandyAndy party? Well let's go back to the very beginning. In 1998 when Windows Small Business Server (SBS) was announced and brought to market, HandyAndy and I met via Microsoft Certified Professional Magazine where we both wrote content and drove the SBS community. I fondly remember HandyAndy consistently hosting online meetups via a BBS system (way before Zoom and Teams).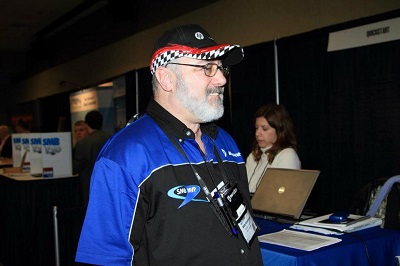 Andy "HandyAndy" Goodman recently passed away and he will be missed. During his career he chose to remain on the technical side and had less patience for marketing malarky. Fair enough. It led to some spirted conversations over the years and HandyAndy always sparred fairly.
What is a rolling recession anyways? Quickly – while this might be your first MSP recession, it's likely not a deep dip as felt just a couple months ago. Sure some sectors like housing are down but others like cruise ships are up (way up). And properly executed, cybersecurity stuff is at least recession resistant if not recession proof!
What's the big secret to MSP success right here right now?