This is a story of a geek from the senora desert who has NAILED YOUTUBE! Carey Holzman, over the past decade, has built a YouTube audience north of a quarter million followers who look to his point-of-view (POV) cinematic presentation style to
It's possible you've heard of us. We've been around for a couple of decades, we've won a few awards, and we've cultivated strong relationships with a network of more than 6,000 partners along the way.
But we've changed a lot since our early days as a web hoster. We're constantly growing, developing our portfolio and increasing value for our partner network. We also have a brand new look to show off!
So while we're not always good at talking ourselves up, we think it's important to reflect on where we've been, celebrate how far we've come and share where we're going. We did start out in a basement, after all.
Born before the cloud
Sherweb was founded in 1998 by brothers Peter and Matthew Cassar. It was the early days of the internet, and very few businesses were offering web hosting services at the time. The Cassars saw this as a problem their company could solve. They built their first web server on their family's home computer,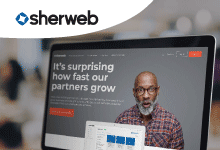 and Sherweb was born.
Delivering exceptional customer service and technical support in both French and English was a priority for Sherweb from the beginning. Even in the early days, Sherweb's attentiveness to partner needs was continually identified major differentiator for the company compared with competitors.
Gaining traction, growth and recognition
In 2005 the company inked an agreement to offer Microsoft Hosted Exchange, and Sherweb's services were expanded to the United States and the rest of Canada soon after. After years of impressive growth, Sherweb launched its official partner program in 2012.
In 2013, the company was named Microsoft World Hosting Partner of the Year, and was also one of the first partners to join the Microsoft Cloud Solution Provider (CSP) program when it was launched in 2014. In 2015, Sherweb was one of a select few partners allowed to offer Office 365.
But despite its many achievements, Sherweb has always made its decisions based on what's best for its partner network.
New look, same commitment
We firmly believe we can never stop learning, improving and searching for better ways to serve our partners. This has been a driving force behind the decision to refresh our brand. Our methods and commitments are the same, but we have a new way of presenting and talking about ourselves that's better aligned with what we offer our partners. In order to concretely describe this, we've organized our mission, vision and mandate to cover four distinct pillars.
Cloud solutions and products

Business strategy

Operational effectiveness

Supportive Expertise
To take in all the glory of our new branding, and for more information about what's new at Sherweb and our four pillar approach, we invite you to browse our new and improved website. You're also encouraged to explore partnership opportunities by perusing our infokit. We'd love to help find out what your business can achieve.
Earlier this year, DanTech Services, directed by Dan Foote (Anchorage, Alaska) was the grand prize winner of the MSP Makeover contest. We visited with Dan in August and provided advice on his Managed Services Provider (MSP) business
One of the hardest working folks in the SMB MSP community, contributor Joshua Liberman talks about eh Fall conference line-up including The Channel Company's Exchange event (that is primarily hosted), ASCII (Toronto), ChannelPro (San Jose) and
Just when you wondered what tricks and treats would greet attendees at ConnectWise's annual IT Nation conference, the answer arrived on day one in Orlando. The end of the story is that private equity firm Thoma Bravo led the acquisition round
Contributor Josh Weiss gave a speech at the recent Continuum
Weiss spoke towards hot to maximum a partnership with the Continuum help desk to run his lean Southern California
Our professor in disguise and leading analyst Alex Fields (Success Computer Consulting, Minneapolis, MN) is back with the real deal: Azure Active Directory. This is a very important segment as Azure is quickly emerging as a trending topic for 2020
Ken "The Virus Doctor" Dwight from Houston Texas double-clicks into something we've discussed before – the bad guys are targeting MSPs as a channel to a customer portfolio. Dwight offers little known facts about the Texas MSP
Security expert Josh Freifield from Southern California shares his passion on two topics: security and community. He's recently joined Microsoft 365 Nation as a contributor. His managed services provider (MSP) firm focuses on security at the enterprise-level and small-and-medium business (SMB).