Story by Harry Brelsford, CEO, SMB Nation -

Just a few years ago, the predictive analytics market (often joined at the hip with the
term "Big Data") didn't exist as we know it. Now it's growing rapidly across all industries including our beloved SMB channel. ChannelEyes is the latest entrant with the release of its OPTYX solution for partner account managers employed at SMB vendors. I'll start with an overview of OPTYX and then provide proper context of where it sits in the industry.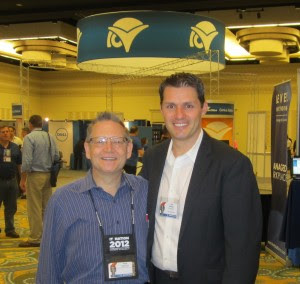 In speaking with Jay McBain, CEO of ChannelEyes, I discovered that his partnership with founder Bob Godgart (of Autotask fame) has resulted in a start-up committed to innovation. OPTYX is a post-acquisition sales workflow tool that incorporates elements of data science to predict which channel partners display the highest potential to convert more sales. Contrast this with SMB Nation's pre-acquisition services to vendors where we acquire leads via numerous tactics (webinars, events) and can offer insights into which attendees are strongest.
Photo >Jay McBain (right) with Karl Palachuk at a recent industry event.
The challenge with understanding the OPTYX secret sauce is the same when assessing any Big Data solution: the black box. Speaking with McBain, it appears the ChannelEyes quants are engaging with outside data supplies/warehouses to develop predictive results that Joe the reseller will be more successful than Bob the reseller at their respective MSP practices. That allows Nancy the partner account manager to focus on Joe. Then sales workflow is generated that essentially instructs Nancy to call Joe and take him to a steak lunch. The filtering is to focus on the top performers (say 20% of transactional partners) and then plop the lower 80% into a nurturing campaign (marketing automation systems like Marketo or HubSpot).
Spoiler Alert: We are hosting a marketing automation system ("MSPs: Learn Enterprise Marketing, on an SMB Budget") webinar on Tuesday, December 22nd at Noon (12:00pm Pacific, GMT-8) if you'd like to learn more about this area. Learn more here: https://attendee.gotowebinar.com/register/1448420023898725122?.
So what is OPTYX not? From my perspective, it's a work in progress like so many Big Data solutions. You can look forward to frequent iterations because the predictive analytics area is all about test, test, test. It appears to be focused on behavioral data because it's a B2B play so the common demographic predictive modeling approach found in B2C predictive analytics wouldn't make sense here. One unanswered question about OPTYX is how its acquiring its training data to build its predictive model. I'll continue to monitor OPTYX in 2016 and intend to make Big Data one of my blogger beats.
Crowded Field?
OPTYX has a "blue sky" statement about being first. I'd offer its early in this burgeoning market and it's certainly uniquely well-positioned for future success. But it's not alone. Long-time readers will remember our SMB Nation Spring workshops in the 2006-2008 timeframe held at the CA campus in Islandia, NY. The executive-in-charge was George Kafkarkou (SVP). Earlier in 2015, I spoke several times with Kafkarkou who is now approaching his third year at Webinfinity, a solution for vendors that provides content and resources to partners to drive success. It's not so much a predictive analytics play but the end game is still the same: a post-acquisition solution that equips Nancy the partner account manager to get Joe the reseller to sell more.
Texas Tommy (Tommy Wald) recently updated his LinkedIn profile to reflect his new role as Chief Revenue Officer at InXero, an Austin, Texas-based start-up. I spoke a couple of weeks ago with Tommy as he was zooming to work one fine day (Wald had just started this job). InXero also has a post-acquisition content strategy for vendors to make partners more successful and sell more. That's kinda the bottom line and, again, I will report more on this in 2016 and Wald's successes (he's a bit of a character let me tell ya!).
Finally, there is The Channel Company which prides itself on being Dominant Media in the channel (that's an understatement). It has ChannelBridge that is a post-acquisition content solution for vendors that calls its "proprietary" Partner Experience Platform (PXP). It's emphasizing using content and communications to facilitate partner engagement and collaboration. Ergo Joe the reseller would sell more stuff for Nancy the partner account manager. My only concern is The Channel Companies reputation precedes itself so further investigation is advised.