A profound THANK YOU to the SMB Nation community for answering the call to assist as you are able in the Hurricane Harvey matter. The momentum, albeit different from 12-years ago with Hurricane Katrina, is building. This is our third of a series of blogs covering Harvey.


Other communities have answered the call to assist Houston and the surrounding SMSA that took the brunt of Hurricane Harvey in late August, 2017.

IAMCP. One group is the International Association of Microsoft Channel Partners (IAMCP). Rudy Rodriguez, long-time IAMCP board member (and Worldwide Treasurer), MSP and principal at Dunamis Marketing in Austin, Texas, shared the following. "We are working on a comprehensive project plan to help our neighbors and business partners get back on their feet and help their employees during this period as well.. The need for help covers an area from Corpus Christi to Port Arthur Texas – about 400 miles of coast line and 30 counties. Please help us get the word out."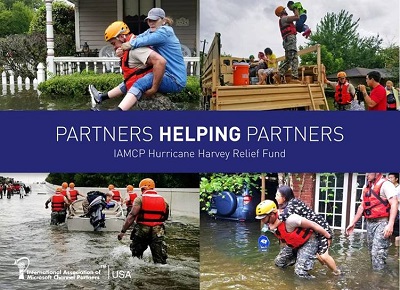 Indeed – happy to help spread the word as different people give in different ways. Previously we reported on Tim Loney's independent effort here. But in a pluralistic society, your giving strategy might be more closely aligned with other affinity groups and associations. Fair enough – in the end it's all about goodness for folks and businesses impacted by Hurricane Harvey. Officially – The IAMCP is ready to help. It has setup the IAMCP Hurricane Harvey Relief Fund. Contribute here OR ask for help with our quick survey.

Additional IAMCP resources are:
• Facebook
• LinkedIn

In case you missed our recent MSP Navy updates:
Update #1
Update #2