This is a start over story. Tim Loney, long-time SMB Nation member and successful MSP, has reached out with a request. Loney is keen on helping his Houston community get back on its feet after Hurricane Harvey. Readers will remember 12-years ago
when Hurricane Katrina hit New Orleans and Jeff Middleton rallied the SBS MVP "Navy" to come help rebuilding efforts. Middleton gave an impassioned keynote at SMB Nation 2005.
First - some context. Loney directs a successful multi-state MSP business, Solutions IS. Looney is one of us in heart and mind with the following philosophy. "We are proud to be a local employer and strong supporter of our community. Building trusting relationships is the best way we can do business with your business."
Second – current status. Take a moment to peruse the news site of your choice to get an up-to-the-minute update on Hurricane Harvey. As I write this, the rains are subsiding, but the problems will linger long after. I learned this from former SMB Nation employee Beatrice Mulzer (2003-2007) who lives in Titusville, FL running a yoga studio. She shared that after the TV coverage ends, the locals have months or more of challenges to rebuild and recover. Houston and the region will be the same.
Third – Loney's update and his relief coordination movement. He forwarded the following pics.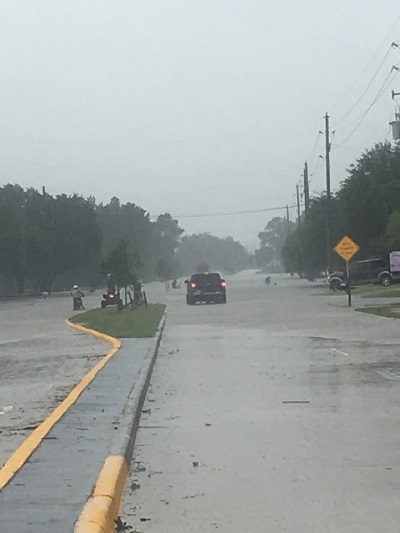 "The first one if from my house." Loney shared.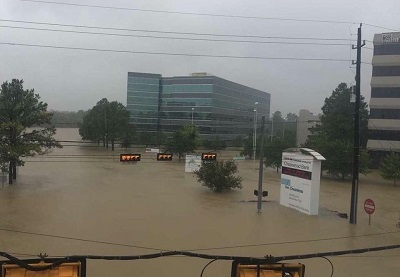 "This is the other side of the freeway from our office. The building in the back is one of our clients. The second one is also the HP campus formerly the Compaq campus." Loney said.

This will be, in many cases, a start over scenario. "We have survived but so many have lost everything." Loney said.
Click and Give
Helping Loney's efforts is fast and very simple. Click HERE to contribute to his GoFundMe campaign "Tropical Storm Harvey – Technology" page. You can also coordinate the donation of supplies. "If they would like to donate product vs funding they can ship to our office just have them ID it as Hurricane Harvey Relief. Our office address is Solutions IS 10555 Cossey Road Houston, Texas 77070 and phone is 281-378-7400" Loney said. His email address is This email address is being protected from spambots. You need JavaScript enabled to view it..