Today's business marketplace is presenting you with a gi-normous business opportunity. And, now, you can tap it from the comfortable confines of your email inbox.
Literally.
Interested?
Then, say hello to BizTechXperts.com, a brand new property officially launching at CompTIA 2015 ChannelConthis week in Chicago.
BizTechXperts, a joint venture between Harry Brelsford's SMB Nation and my own MediaArchiTECHs, is devoted to helping businesses choose the technologies on which they live and breath, but in a unique way — by providing one-to-one advice from qualified, verified, and identified IT experts just like you.
Hear that? Just like you.
Along with opening the doors to the site, we're also signing up qualified experts — sorry, we won't take just anyone — from among the thousands of MSPs, CSPs, resellers, ISVs, and integrators who have long been part of the SMBNation community.
'You can join our expert network by filling out this brief form. And, oh, for now, it's free to you.'
But there's a far bigger economic incentive here for you: If you're one of our experts, we match you to highly qualified leads you can quickly and easily nurture.
You're wondering, I know: What's the catch? Is this another forum?
No! Forums fail. Whether you're seeking an answer or giving one, you have to go to separate place. Then you have to hunt and peck. Bleh!
BizTechXperts is better. At its heart-and-soul is a smart Q&A platform based on cutting-edge natural-language processing technologies that, in the end, gets you a highly qualified lead in the form of an advice seeker. You can try it by typing a question into the little widget on the upper right side of this very page.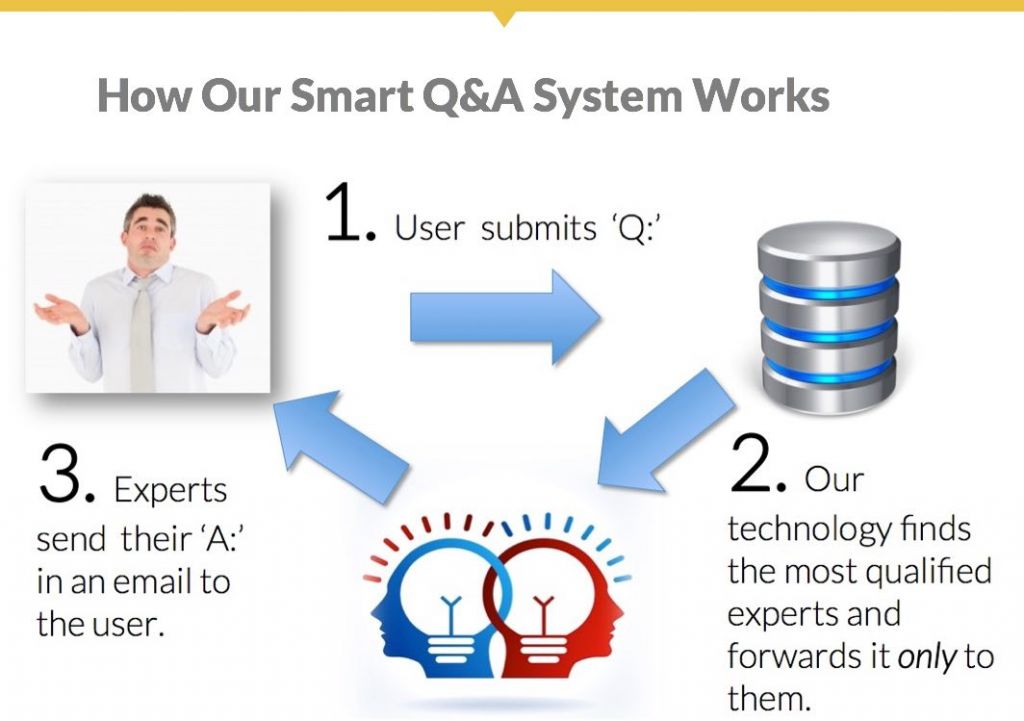 NOT 'SPRAY AND PRAY.' Natural-language processing and machine learning allows the platform to accurately 'understand' a question so it can be matched to an expert.
When you receive a question, it's accompanied by all the things you typically get with a lead, except for this: It's even more qualified because the question itself contains explicit or implicit signals about the prospect.
What's more, the platform allows a back-and-forth with the the advice seeker — your prospect — until you're both ready to connect by phone or your own email addresses.
Think of it as a micro-consulting engagement en route to a recurring revenue contract.
Along with the it's smart Q&A platform, BizTechXperts is also a complete marketplace, where business buyers can browse reviews, product listings, and — in another free spiff to you — a directory of IT partners like this one from IT Total Care or this one for the Computer Information Agency.
If you're a product maker or developer, you're welcome to join this party. You can showcase your product with a basic product listing for free or a rich, paid listing.
Have questions? Sure you do. So we have answers. Go to our FAQ for prospective experts.
Finally, while BizTechXperts brings one other big advantage to the table. Under the uber-brand, we're launching contextually targeted expert "hubs." Among the first: One dedicated to Office 365.
These hubs, which we'll launch around products, technologies, product segments, and verticals, provide the advantage creating a highly authoritative, search friendly destinations of experts, their answers, and other kinds of content.
Please take a look. Apply to join our network. If you're an IT consultant, MSP, CSP, reseller, get a free listing.
And by all means, feel free to contact us with feedback, questions, or other ways you can participate.