Covid-19 restrictions and their lingering after-effects have been creating disruption around the availability of goods for the past few years. These effects have hit most industries across the world including IT. While many industries have normalized significantly, indicators show that the IT industry may be affected long into 2023.
Harry Brelsford of SMB Nation sits down with Sachi Thompson of Curvature to discuss the networking space constraints around supply chain and how it may affect your business.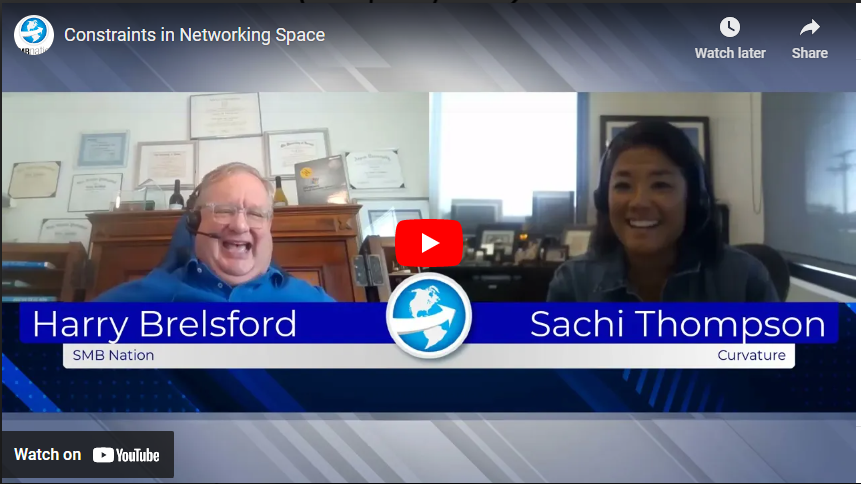 Video Transcription
Harry Brelsford
Hey nation nation. We're back for another quarterly check in with Saatchi Thompson over curvature. How're you doing today?
Sachi Thompson
I'm doing great. Thanks for having me.
Harry Brelsford
Oh, no problem. And where are you located?
Sachi Thompson
I'm located in Santa Barbara, California.
Harry Brelsford
Oh, you're probably feeling some heat.
Sachi Thompson
I feel like the whole country is what we definitely are for the first time this whole summer.
Harry Brelsford
Yeah, we just broke our summer long heat dome in Austin, Texas. We're into it probably about 20 degrees cooler right now than we were. So it's very pleasant festival season. But that's not why we're here. We're here for the quarterly check in for some updates on supply chain. And what's what's curvature up to? I'll just turn it over to you.
Sachi Thompson
Yeah, no curvature, we're having a phenomenal year, mainly because of the supply chain issues. But also, because of our new ownership with Park Place technologies. It's been very positive for our brand for both organizations. But we've been very busy continuing to supply the market with equipment that's been unavailable for about 14 months, on average. And so we thought that by now we actually would have seen most of the network switching categories alleviated with the supply chain constraints. And unfortunately, we're predicting those now to carry forward through probably the middle towards q3 of next year. Oh, no kidding. Because the constraint,
Harry Brelsford
yeah, is a layperson. No, no, I'm going to talk a B to C. So it's not so much b2b. But as a layperson, and having had some recent travel and driving around, you know, the new cycle has moved on from ships setting outside California ports, right? It is, you know, that was every night, and that news cycle is moved on to other things. The shelves I want to see getting stocked appear to be more stocked when they go to the grocery store, and so on. So I thought it's over. And I'm being a little facetious. But I thought, hey, we caught up.
Sachi Thompson
Yeah, I think you know, it's an interesting time in the last 17 months, you see a lot of constraint in every vertical of the space down to, you know, straws and cups or syrup's at your favorite coffee shop. Those things have normalized significantly, however, they're still stocked out what we're seeing just in the infrastructure that we sell, and the product categories that we, you know, sell on to our customers, we're still seeing the networking space constrained. And that's due to bigger things that's noble gas issues, Microchip and semiconductor constraints that as you know, are global and continuing on, and still a real issue. And so that's really where those categories are been hit most, mostly, the server areas have picked up a little bit their stock gaps for about 60 days, 75 days, candidly, nothing as bad as what we saw in our larger networking providers. Were getting customers quoted 400 day lead times. A lot of them are not even giving days anymore. They're just saying sometime next year. And so for us, it really is a nice spot for us to sit in, because we have ample stock to be able to provide equipment to our customers during this inner interesting time.
Harry Brelsford
Yeah, absolutely. And another thought I had is, you know, the what's now kind of become an ongoing, I'm going to call it a debate. Are we in a recession? Are we not in a recession? Are we headed to a labor strong rates are high, you know, this? This is a this is a tricky one, right? This This doesn't have all the markers of you know, the first three rodeos I went through? Yeah. With recessions. Any thoughts on that?
Sachi Thompson
Happy to comment on that? So fortunately, being with this brand for 16 years now we've we've weathered through, you know, the oh, 708 recession, we did really well, right, we're a value play, we we deliver a service and an offering both on hardware and maintenance and managed services. That is a value play for customers, small and large, who need to optimize their budgets, and still create that same connectivity compute uptime availability, without sacrificing their environments, but they have a serious economic pressure before them to to, you know, quickly find solutions for Interestingly enough, in this last 14 months, where we've really seen our business pick up almost 70%. Just to give you some perspective of how busy we are. Squarespace, we've been very, very fortunate. But candidly, a lot of this growth has been due to being acquired by Park Place technologies and 2020. It's just been a brilliant marriage of these two brands. We've done really well and the offering to our clients is really so compelling that we take all the risk away of considering a secondary play with the maintenance and the services and really, it's a nice offering that rivals the OEM And so really, it becomes a real view of cost and so when We, and because we've been in this space for 36 years, we've weathered through, as you said, three good recessions, we do well, we have customers who come to us, because naturally, they've got to get a lot done with far less. The other interesting thing is that we have been able to see firsthand a lot of our client base, who hasn't done well, during the recession. Obviously, the airlines have rebounded significantly, but they were significantly hurt in 2020. And coming out of 2021, we see a lot more retailers a lot more ecommerce, shifting those markets that way, rather than brick and mortar being a concern, one of our largest real estate portfolio brands who used to buy product from us consistently, we've now done a lot of take back and re application of their units and deploying them to other markets. Because, as you know, those are still very dark. They're still a hybrid notion of work from home and what that looks like in the commercial space. So going back to your question around the recession, we do well, during those times, are businesses recession proof because of the value we offer?
Harry Brelsford
No, I'm glad to hear that I'm gonna take that under advisement. I'm working with another publisher. Can't quite announce it. But we're looking at a one day workshop, called MSP rescue kind of along the lines of the popular show Bar Rescue that you see on TV. And in my space. Some there's there's a lot of change going on with the smaller MSPs, right? Yeah, do I retire? Do I merge? Do I spin the hamster wheel faster. And so I do have an agenda space on counter cyclical opportunities. With the assumption being we're headed into either a light, moderate or heavy recession. Who knows, but, you know, there will be opportunities if you're reposition So, fact what we can do is, when we talk to you in q4, why don't we think in terms of forecast for 2023? Right? Well, we'll start to get that data. You've got your finger on the pulse, and we sure appreciate you, you know, stopping by quarter lead, uh, you know, help us.
Sachi Thompson
Absolutely, thanks for having us on. And I think we do provide a unique view because we represent the secondary market, we're global. The other thing we love, too, is that we just get to see things that are happening in North America that isn't happening in Europe and differently in Asia. And so that gives us some indicators that are pretty good predictors of how the future will look for both brands and then even consumers as well. Yep,
Harry Brelsford
perfect. Okay. All right, over and out. Bye bye.