ChannelCon 2022 was a chance to reconnect and reinvigorate your business and your career through networking, and educational sessions. Harry Brelsford of SMB Nation sits down with Chip Reaves of Bigger Brains to discuss this three day event.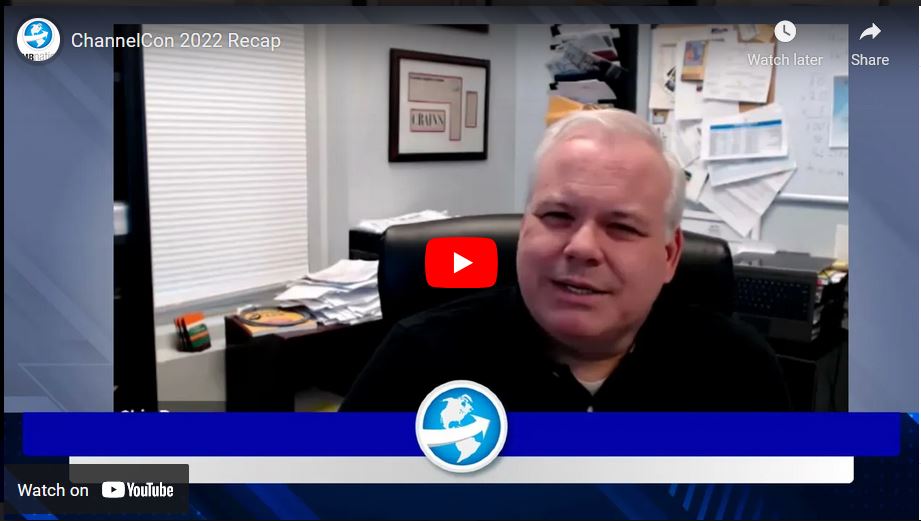 Video Transcription
Harry Brelsford
Hey nation nation back with Chip Reeves of bigger brains. Chip. How you doing that in southern care? South Carolina.
Chip Reaves
The other USC nah, I'm doing great, Harry. How you doing? Yeah.
Harry Brelsford
Good. How are you? Hopefully, safe and sound I think your regions been getting some weather as I've watched.
Chip Reaves
Just the usual, you know, thunder, thunderstorm kind of region. We're not near like the flooding and that sort of thing, if that's what you mean.
Harry Brelsford
Yeah. Yeah. Well, hey, so you just shared with me, the CompTIA channel con conference in Chicago in early August. What's your first channel calm? How'd you like it?
Chip Reaves
It was good. And yeah, it's weird that I've been in the industry for 30 years. And this was my first channel con, but, you know, we're gonna say but better late than never. It was great. And it was, it was a lot bigger than I expected. There were maybe I don't know, four or 500 people there. You know, got to see a lot of, you know, good folks that I know from the channel got to meet a lot of cool new vendors and existing vendors. So yeah, really good energy and an audit. Good. A lot of good topics.
Harry Brelsford
And you have Nancy, that was jam there. I thought I saw some photos that Jan or maybe that was another show. That was
Chip Reaves
the build it show the week before was Nancy and Jan spring, were there for that. Oh, yeah, channel con was just me and Nancy. Okay.
Harry Brelsford
Yeah, what I found with the channel con show is I've always managed my, my expectations. And in this sense that it's, for me, it was as much a chance to connect with my professional relationships on the vendor side and the community side is to meet new attendees, and it's almost like the show serves two masters, if that makes sense.
Chip Reaves
You know, I think it actually serves maybe three or four masters, I was trying to figure it out, because I kind of realized late in the game, that there was really like more than one channel con, you know, it kind of depended on your perspective, if you're an MSP, you kind of had one experience going through. But there's also a lot of people who just have, you know, the CompTIA certifications, or whatever they're working in, like a corporate IT environment. And they were there too, and they had a different experience. And then there were also people, which I should have been aware of being in the training industry, who are trainers who were, you know, like doing CompTIA prep courses, or CompTIA certification courses, and they really had their own set of sessions as well. And that's something I want to learn more about in the future, because obviously, for us with bigger brains, that kind of makes more sense. But you're right, there is a definitely a heavy vendor presence. That's always been kind of the reputation of channel con is that there's, there's a lot of vendors there. But we actually met with a lot of great MSPs as well. And they had some great discussions and great relationships. But I'll tell you the two big takeaways that I that I got from the session one was a session that I got to co facilitate with Carl Powell, Chuck and Amy Bab and Shaq and James Kernan, and Dave cyber and, and well, pal, Jeff, and the discussion at my table was on your future team and what your future employees would look like, you know, for your MSPs and that sort of thing. And I was I was kind of Yeah, I didn't know where the discussion was gonna go. But kind of two of the big takeaways from the group. One was that virtual desktops, they thought were already a more significant thing that I realized, and we're going to be a lot bigger in the future, I've always been kind of skeptical of the virtual desktop side of things, because it's kind of you know, we've had a lot of starts and stops in the past. And the other which was less surprising was the need for a role of like a tech evangelist on your staff. Because there's so many technology solutions that your customers are just not aware of. And so you really need almost a full time person on your staff whose job it is to help promote what technology can do out to your customer base to kind of show them what solutions they might not be aware of. So yeah, I thought that was pretty cool.
Harry Brelsford
Well while I got Yeah, I haven't talked to anybody about build it that's a newer conference that here again it wears it well up on social media, you know, their photography was excellent. It looked like it was energetic. I think they have a slightly different approach what what is build it from your, your, your vantage points,
Chip Reaves
I have not been myself so I can't speak personally but Nancy Williams from my team, who you know, well has been to two of them now, and was really impressed with the first one which was pre pandemic I think, and then we went to this one just this this past month and it was definitely a good event. Definitely a high quality event. I think the attendees really enjoyed it. I think the attendance was not maybe what we were hoping for, which is often the case post COVID. But But overall, a lot of great reviews about just the overall Quality of the event and experience for the attendees. So definitely has a good reputation.
Harry Brelsford
Cool. And then finally, what events might people in the industry see at I think we have Datacom coming up and mistakes on my birthday, September 11, or something.
Chip Reaves
Now that we know that we all have to sing Happy Birthday to harissa dead okay. Yeah, we I think that'll kind of the only other it show we're doing this year. Nancy is going to be there with Caitlin from my office, who's relatively new to the IT channel, but she does a great job with our marketing team. So there'll be representing Bigger, bigger brains at detto con. My next show will actually be a training industry show called dev learn, which is coming up in October, but that's more for the training and development side of things.
Harry Brelsford
All right. Well, we'll check in with you next quarter. And thanks, Chip.