Recently I visited Simply Measured in downtown Seattle to drink from a firehose. Scott Fallon (Vice President, Marketing) and Maricel Paz (Product Marketing Manager) cornered me in a conference room to overwhelm, daze and amaze me with both research and a product demo. Spoiler Alert: Partner program being developed and launched as I write these words.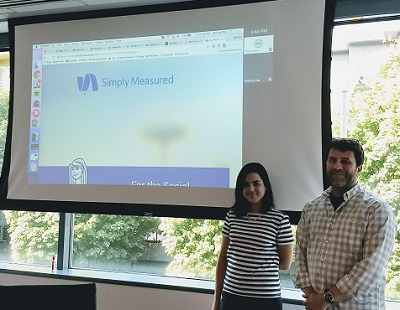 Scott Fallon (Vice President, Marketing) and Maricel Paz (Product Marketing Manager) at the Simply Measured HQ in Seattle.
I've tracked Simply Measured for a couple of years in different ways. Readers will recall I was involved in a Big Data startup for twu years, LeadScorz, with a focus on predictive analytics. Simply Measured was on the fringe of that world. And I attended the Simply Measured Social Lift conference in Fall 2016 where I highlighted the chocolate covered bacon here. Note that the iconic Simply Measured, started in 2010, is and was ahead of its time as a social media analytics company. It quickly grew to over $20-million in revenue and has raised over $30-million. It's core success vis-à-vis social analytics and engagement metrics was to develop ingestion capabilities to compare results and view relationships. "Our focus is on SMBs and larger companies however we're not a low-end solution. Our sweet spot is medium-sized businesses." Fallon shared. "Most competitors track at the top of the funnel…Simply Measured goes deeper than that - tracking shares, conversions, tracking URLs (e.g. posts….attributing traffic to posts, etc)." Well it's all Black box stuff – Magic at this point to me. But one hour later in this visit I was a changed man with deeper insights into social analytics.

Fallon is an old friend from Parallels who has landed very nicely at Simply Measured and the purpose of the meeting was to review a newly released study "The State of Social Marketing 2017 Annual Report" that was funded by Simply Measured. This is where the drinking from the fire hose part comes in. It's a 61-pages whopper and Fallon and Paz shared these highlights with me.

Customer base. It's 65% brand/35% agency split. Historically agencies are the channel partner for Simply Measured. "A lot of the influencer agencies do data visualization." Fallon stressed. "We have native support for Tableau for custom dashboards, etc." The study confirmed the trend of marketing making more of the purchases (MarTec) and not as much IT inside organizations.

Marketing role. "Social started out as a silo…now it's part of mainstream marketing…but it's not completely being treated the same as other tactics….CMOs want to know how many leads did an email campaign generate, etc. Social is still being given a bit of a pass in terms of tracking and engagement metrics." Fallon said.

Measuring. "In our survey - 90% of folks say there are struggling with social to measure ROI…tying social to business results…and not doing it well. Only 57% of brands set conversion goals…the social activity is still up there at the awareness stage. There is a focus on likes and shares accumulated." Fallon observed. "Agencies do better with 73% setting conversion goals…which makes sense…agencies should do better than brands in setting goals…"

Budget. Closely related to the above discussion was budget for the social analytics. Only 21% of brands have budget for social analytics according to the study.
Influencer. Influencer marketing is becoming hugely important - survey found this category at 50% as important according to respondents. About 55% of brands are looking to influencers to extend reach. The short coming is budget to pay influencers. This is still up there at the engagement metrics level, according to Fallon.

Customer Decisions. Social is super important from a sales informational standpoint. This is the tired old saw that most consumers do much of their own buying-related research before approaching the company to make a purchase.
Research conclusion: Delivering ROI from social is super important but the persona just isn't doing its work yet.

PARTNERS!
"We just kicked off a partner program for agencies and consultants. We are developing tiered pricing model. For the first time, this is being undertaken as a focused, dedicated effort." Fallon concluded.