This past week I received an announcement that Bainbridge Technology Solutions was closing its doors on Winslow Way ("Main Street") on Bainbridge Island. It's been a storefront institution for over a dozen years; a welcome man cave to pick up parts, order a new system and most importantly, receive expert repair services. It joins other recent closures such as an office supply store ("Paper Products) just down the street.
Bainbridge Technology Solutions was impacted by concurrent forces: retail disruption and pivot to cloud. Across Puget Sound, a short 35-min. ferry ride, is the home of Amazon.com who's disruption impacts physical presence retail everywhere. The pivot to cloud has reduced IT spends as we know it. In the words of Brandon Byron, owner of Bainbridge Technology Solutions, "We have sincerely enjoyed being part of the Bainbridge Island retail community. However, retail operations are no longer feasible in this evolving industry. So, we look forward to the next chapter that will allow us to continue to serve the community for many years to come." Byron was also impacted by the very IT vendors he served. In this article, I outline how HP's snub of small retailers in ink sales truly hurt firms like Bainbridge Technology Solutions.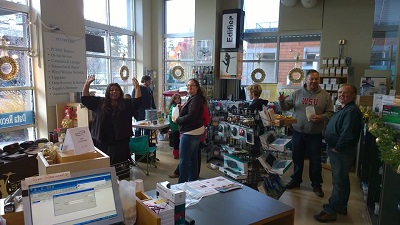 [Photo credit to Charles and Dona Keating and Pattie O'Loughlin]
SMB Nation is a long-time customer and supporter of Bainbridge Technology Solutions. For a few years, we upheld it as a poster child for Small Business Saturday (in late November) that you can read about here (included popcorn and coffee for celebrants in 2015) and watch a video featuring Bainbridge Technology Solutions in 2011 here.

Moving forward, Byron shared that "Commercial clients will continue to be serviced as usual, residential clients will have the option to schedule on-site and remote service calls via our web site."

The choice is yours on how to absorb this news. On the one hand, you can be angry and perhaps have grievances about losing something from the past. I'd offer, knowing Byron well, he's focused on the future and, shed from the retail overhead, will figure it out. I've got his number on speed dial!

PS – big discounts on remaining inventory the next few days. Stop by and tell Byron that "Harry sent ya!"