At the recently completed Sage Summit in Atlanta, I enjoyed a 1:1 meeting with George Foreman, boxing legend, following his keynote address to several thousand attendees. My question was simple – it was about advice for my 18 year old son who is an Eagle Scout and will start at CalPoly this fall studying information systems.
"It is important that you must start - you can't dream without making a first step to start. Then in life you will always have to start over. If you do it once, you can certainly do it again." Foreman offered as advice that applies to anyone of any age.
Specific to a young person, Foreman opined "The most important thing is to get a job. Doesn't matter how many hours it is. Learn and then learn something you love. Even volunteer. Even clean the bathroom. At work, everyone will stop by to tell you something." Foreman shared. "If you can just get into the door, you can learn what you really want to do. Don't wait to be successful. You got to start the ground work and you have to start from the bottom." I'd offer that is sage advice from Foreman at the Sage Summit!
Keynote context
Foreman dazed and amazed the Sage Summit audience for a few rounds, literally. Today Foreman works with youth at the George Foreman Youth Center in Houston, Texas. "The youth energized me and really got me back into boxing the second time." Foreman said. "I had run out of money and I was focused on getting kids off the street. I'm still doing the that."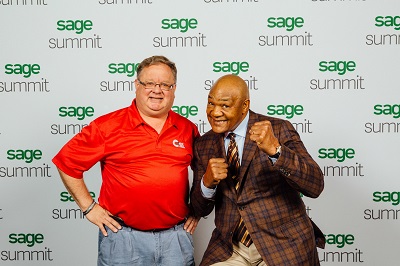 Foreman told his story of not completing high school to learning boxing and become Olympic gold medalist within two years of starting boxing. He went on to be a twice world champion. That followed with success with selling 100+ million George Foreman Grills.
George Foreman
Bottom line. Foreman went from riches to rags to riches again. His success is well-earned.