As I write this sequestered on Bainbridge Island, I've just returned from DattoCon 2017 in Denver. This was the fifth installment of this partner conference and, to cut to the chase, I will repeat. Ironically this was my first DattoCon conference; I've tracked the firm for ten years all the way back to the basement. In those days, I could call and Austin McChord, founder and CEO, answered the phone directly.
This is a startup story at it's heart.
Catchup with Austin
I found a few minutes to have a 1:1 with McChord and it'd be an understatement to say its been almost ten years since I've done that. I had him recount the journey from basement to board room. An exhaustive recollection can be found in the works of T.C. Doyle here which I won't repeat. Rather McChord speaks towards 2014 as a pivotal year where Datto started to spread its wings beyond the BDR paradigm. This includes networking solutions, Office 365 support and most recently WiFi mesh and Datto Dekstops, a Workstation as a Service (WaaS) type solution I profiled here.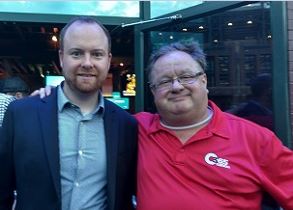 Haning' with Austin McChord, Datto CEO
But I really wanted to know what makes McChord tick ten years later. When asked to grade himself, he offered a B+ grade acknowledging lessons learned along the way. I compared Datto's growth to that of Bainbridge Island-based Avalara, the internet sales tax calculation company. It too grew from a handful of employees to 1,000+ today (Datto has 850 employees). While complimenting McChord as one of those unicorn individuals how can exercise management prowess from the garage to the boardroom (a rare individual), I asked if he was the right guy to lead a grown-up Datto. Not surprisingly he believes he is and framed up his answer in a different light. "As long as I enjoy what I'm doing, I'm the right guy." McChord offered.

I'm sure McChord is frequently asked about the future of Datto with respect to an exit strategy. I asked and he politely demurred that no fixed plans are in place at this time. However his team, a combination of old timey SMB channel folks and outside experts, is ready to pop on short notice. In fact, in the spirit of family, Datto has an option pool to insure that McChord's success is also the success of his employees.

The visit rounded out with additional forward looking statements concerning possible, unannounced acquisitions – standby!