WatchGuard Adds Autotask Integration to Simplify Managed Security Services

MSSPs using WatchGuard and Autotask now benefit from closed-looped service ticketing and synchronization of asset Information

SEATTLE – November 7, 2017 – WatchGuard® Technologies, a leader in advanced network security solutions, today announced the launch of an integration with Autotask's Professional Services Automation (PSA) platform. Autotask PSA is a leading cloud-based platform used worldwide by managed security service providers (MSSPs), Managed Service Providers (MSPs) and IT Service Providers (ITSPs). The integration streamlines network security management through automated, closed-looped service ticketing, and synchronization of customers' security asset information.
Autotask PSA is used by MSSPs, MSPs and ITSPs to enable end-to-end IT service management for their customers. Autotask helps improve business operations by consolidating multiple applications and functions into one platform, including service ticketing, project management, asset management, and customer relationship management. By integrating Autotask into the WatchGuard platform, MSSPs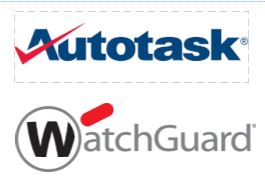 receive a unique combination of capabilities that automates the operations associated with the delivery of managed security services.

KEY FEATURES:
Integrated, Closed-Loop Service Ticketing — Track Issues with Service Ticketing Made Easy

Enable Autotask service tickets for WatchGuard security solutions.

Configure event thresholds on a wide range of parameters identified per device, including: security services, device statistics, and subscription statuses. Event thresholds automatically trigger the creation and closure of service tickets, closing tickets when issues are resolved, and reducing the number of false alarms.

Eliminate ticket flooding and provide trending visibility into customer security, because the same ticket reopens if the issue returns, rather than creating multiple tickets.
Auto Synchronization of Asset Information — Know a Customers' Security

Automatically register and update customer security asset information.

Gain visibility into customer security through automated synchronization with WatchGuard security appliances, including subscription start and end dates, device serial numbers, OS versions, and more.

Avoid a managed network going unprotected because of incorrect security service subscription end dates.
SUPPORTING QUOTES:
Andrew Allen, Chief Executive, Aabyss Limited
"Our business relies heavily on both WatchGuard and Autotask. Being able to integrate these technologies further enhances our capabilities and the services we provide to clients. Simplifying the process of service ticketing and removing the manual upkeep of our customers' security information is a huge value-add for us."

Len DiCostanzo, SVP, Channel Development, Autotask

"This integration, developed by a leader in network security, will create a solid combined offering designed to automate and optimize business processes. Automation of these processes is critical to ensure the highest level of services for clients, while reducing operational overhead for our partners. Together, we are enabling our global base of mutual partners to improve their service delivery while increasing staff productivity."
Andrew Young, SVP, Product Management, WatchGuard Technologies

"WatchGuard continues to partner with organizations to develop advanced integrations that minimize the operational complexity associated with managing multiple technologies. As a direct result of feedback from our Channel Partners, we prioritized our integration with Autotask as a critical solution in managed security services enablement. We are thrilled with the outcome and all the positive feedback we have received from our MSSP community."
ADDITIONAL RESOURCES:
About WatchGuard Technologies, Inc.
WatchGuard® Technologies, Inc. is a global leader in network security, secure Wi-Fi, and network intelligence products and services to more than 80,000 customers worldwide. The company's mission is to make enterprise-grade security accessible to companies of all types and sizes through simplicity, making WatchGuard an ideal solution for distributed enterprises and SMBs. WatchGuard is headquartered in Seattle, Washington, with offices throughout North America, Europe, Asia Pacific, and Latin America. To learn more, visit WatchGuard.com.

For additional information, promotions and updates, follow WatchGuard on Twitter@WatchGuard on Facebook, or on the LinkedIn Company page. Also, visit our InfoSec blog, Secplicity, for real-time information about the latest threats and how to cope with them at www.secplicity.org.

About Autotask Corporation
Autotask Corporation helps IT organizations worldwide work smarter with a complete, cloud-based IT business management platform that enables efficiency, accountability and access to the metrics that drive intelligent business decisions. With built-in best practices and workflow automation, Autotask speeds time to revenue while continually improving service delivery. Autotask is available in seven languages and used in over 90 countries. Headquartered in New York, Autotask has offices in Beijing, Chicago, Dallas, London, Los Angeles, Munich and Sydney. Visit autotask.com for more information.