— Cutting-Edge VR Systems, "Google Expeditions," Plus D&H's Trainings & White Glove Services Open Unique Opportunities for VARs to Profit While Enhancing STEM/STEAM Curricula —


HARRISBURG, PA – October 30, 2017 – D&H Distributing, a major provider of SMB and consumer technologies to the North American high-tech channel, is invigorating its linecard for the education vertical with virtual and augmented reality solutions that will usher-in "The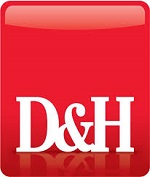 Classroom of the Future." D&H is training its resellers via streaming webcast sessions and VAR engagement events, and through its K-12-dedicated "White Glove" services program which includes amenities such as laser-based product tagging, pre-assembly, configuration, and device management. Efforts include acclimating VARs to a "curriculum-based sales strategy," which aligns with spring as opposed to the typical fall IT purchasing season, to accommodate the budgeting process for this marketplace. Such will give K-12 decision-makers the necessary lead time to allocate funds to these breathtakingly immersive solutions.
In addition to training, D&H is offering preconfigured "Virtual Reality Kits," or customizable product bundles around the Google Expeditions platform, including VR headsets, routers, cases, tablets, smartphones, monitors, and more. The cutting-edge "Google Expeditions" app allows teachers to immerse students in lessons via stunning, 360-degree photographic environments utilizing a headset/smartphone/tablet combination. For example, students can virtually walk through a factory on the other side of the country, trek the surface of Mars, or immerse themselves in a dinosaur-inhabited, prehistoric landscape.

Other products include the HP's Sprout Pro by G2, an interactive, all-in-one computer that incorporates extraordinarily detailed 3D scanning. Scans can be used with a 3D printer, allowing students to create, color, and manipulate items such as artwork, shop class projects, or engineering designs on-screen, then physically produce those items as dimensional, real-world prototypes.

"The implications of VR technology in the classroom is remarkable, introducing a new era of immersive, 3D teaching techniques that until now have been mostly seen in science fiction," said Peter DiMarco, vice president of VAR sales at D&H Distributing. "We're educating our VARs, not only with product knowledge, but also by helping them navigate the potentially complicated K-12 space. Armed with this information, pre-configured VR product bundles, and competitive pricing, our resellers can be among the first to introduce these virtual teaching techniques to classrooms, profiting from the emerging trend."

D&H's latest Solutions Lab webcast, "VAR Curriculum: Tech for the Future of Teaching," outlines both the HP Sprout Pro G2 all-in-one and the Google Expeditions-compatible solutions, helping VARs to familiarize themselves with these offerings. It also covers D&H's "White Glove Services" support program for K-12 VARs, which includes amenities such as laser-based product tagging, pre-assembly, configuration, and device management. The session is available for streaming on-demand at dandh.com/solutionslab.

In addition, D&H has developed a "K-12 Advisory Group" of resellers in the this vertical, who meet during D&H's trade events to engage with D&H management and discuss trends and challenges in the field. The group's feedback has helped to shape the direction of D&H's K-12 offerings.
Promoting STEM/STEAM via Virtual Technology
Demand for items such as 3-D-capable computers, scanners and 3-D printers, plus 360-degree, VR/AR learning platforms is growing in K-12 settings, as educational institutions seek new ways to engage students via cutting-edge, technologically-enhanced environments. Such high-tech solutions have typically been applied toward STEM fields, e.g., science, technology, engineering, and math.

This initiative has expanded to include art and design, since educators are finding that students learn better and comprehend concrete concepts such as math and scientific principles more readily when artistic disciplines such as design and graphics are incorporated into that learning process. It has led to the evolving acronym "STEAM," incorporating "Arts" into the formerly "left-brain" initiative.
A Wide VR/AR Ecosystem of Products
A plethora of products are being leveraged to support these virtual and augmented reality teaching techniques, including the following (some models forthcoming):

Chromebooks and Chrome management platforms

PCs from HP and ASUS

Virtual reality headsets and systems by Samsung, HTC, VIVE, Lenovo, Ematic, and Xtreme Technologies

Tablets and digital pens from Wacom and ASUS

Classroom-appropriate routers from TRENDnet

3D printers from MakerBot, ROBO 3D, and XYZprinting

Drones and robotic toys from Mota, Zooppa, Xtreme Technologies, UBTECH, and Sphero

Build-your-own-computer coding kits for children from Piper

Accessories including trunk cases, mats, chargers and more from Pelican, Siig, and Startech.com.
On the software side, Google apps such as Daydream (which includes tools that manipulate objects within the virtual scene), the Tango 3D simulator, and the WorldSense tracking technology deliver similar virtual experiences. And the forthcoming Google Expeditions AR promises to project a 3D image into a live space such as a classroom, wherein students can walk around the projected image and view it from all sides with compatible hardware.

"We're dedicated to helping resellers seize this opportunity, teaching them to communicate how these solutions fit into a district's curriculum and enhance experiences through immersive technology," DiMarco added. "Virtual reality makes this an exciting time to be a solution provider—in addition to a student or an educator."

VARs can email This email address is being protected from spambots. You need JavaScript enabled to view it. for information on D&H's Virtual Reality Kits, or visit the distributor's K-12 Opportunity page at dandh.com/K12. The VAR Curriculum Solutions Lab presentation is available for streaming on-demand at dandh.com/solutionslab.
About D&H Distributing
D&H Distributing believes the most important element of doing business is developing relationships for mutual success. The company continues to build upon its 99-year-old culture by providing its manufacturers, co-owners, and partners with the utmost customer care, consultative guidance, and multi-market expertise. As one of North America's leading technology distributors, it delivers a wealth of enablement resources and hands-on support services that empower resellers in the IT channel.

The company engages with solution providers, integrators, and VARs to meet current business challenges, as well as forecast their evolving, real-world needs and prospects for lucrative growth opportunities. D&H maintains a special focus on independent VARs expanding their competencies in areas such as hosted and cloud services, the modern mobile workplace, comprehensive SMB server networks, and cross-market expertise across the small business, education, healthcare, and government verticals, to name a few. The company's value proposition includes professional marketing resources, a new transactional service model, dedicated Solutions Specialists, and a highly-lauded webcast training venue; plus reseller engagement events such as technology trade shows, roundtable opportunities, training "track" sessions, and hands-on "lab" sessions.

The distributor is headquartered in Harrisburg, PA, in the US and in Brampton, Ontario, in Canada. Additional warehouses are located in Atlanta, GA; Chicago, IL; Fresno, CA; and Vancouver, BC, Canada. Call D&H toll-free at (800) 340-1001, via www.dandh.com, or follow the distributor's Facebook and Twitter feeds, https://www.facebook.com/DandHDistributing/ and @dandh.