By Nate Teplow, Sr. Product Marketing Manager, Continuum

Business challenges are inevitable, but figuring out how to effectively identify and overcome these obstacles means the difference between scaling profitably and stagnating.
If I were to ask you to name your biggest pain point, you'd probably say "cash flow," or "lack of time," or "not enough bandwidth," but dig deeper. Is the primary issue that you can't simultaneously generate new business while supporting your existing client base? Does your clunky technology stack eat up
valuable staff time and talent? Perhaps you have a talent problem and struggle to hire or retain qualified personnel.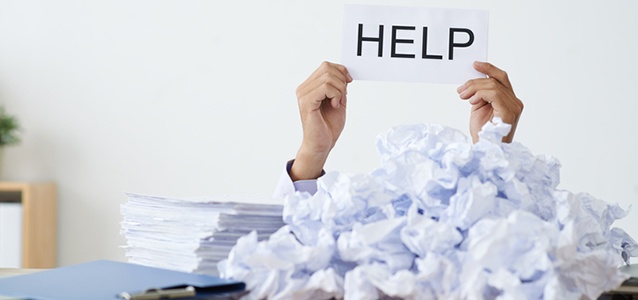 There's no shortage of challenges, but to adequately address each you have to tackle the root cause. To help you paint a clearer picture, we've outlined 14 common problems that MSPs face daily. Read on to see if any sound familiar and check out a new tool we created to help you overcome each.
1. Too Many Tickets
As an MSP, you're in the business of managing tickets. But ticket overload can be a huge drain on productivity and profitability. Finding ways to reduce ticket volume will help your team stay more productive, spend more time with your clients and focus on driving revenue for your business. Make sure the solutions and processes that you've implemented are helping to reduce ticket volume, not adding to it.
2. Building in RMM Alerting Conditions
RMM solutions are ideal because they allow you to monitor just about anything when it comes to your client machines. But typically you need to tell the solution what to look for before you start generating meaningful data. This can lead to dozens, if not hundreds, of hours that your team needs to spend setting up and configuring your solution.
3. Maintaining Your RMM Solution
The work is not done after setting up your RMM solution, however. You constantly need to update your alerts and configurations to make sure you're monitoring the right thresholds and events, which can dramatically impact your business' profitability. Using solutions that require minimal maintenance and updating will reduce your total cost of ownership and add money to your bottom line.
4. Catching Issues Proactively
Once you know what to look for, RMM solutions deliver. The problem is that you usually have to experience an issue first-hand before you know how to configure your alerting conditions. This can lead to reactive service, rather than proactive service, and oftentimes strains your client relationships.
5. Profitable 24x7 Monitoring
Your clients expect you to monitor their systems 24x7, but this can be very hard to do profitably. Staffing technicians around the clock can be an enormous cost, but not having people available to fix issues at any hour will reduce your ability to provide proactive services. This leaves a very small window for you to operate proactively and profitably.
6. Finding New Skillsets
If you want to compete for new projects and new clients, you need to have the right team and expertise in place to support them. But we all know how difficult it is to find technical talent. Make sure you have access to resources with different areas of expertise so that you have the opportunity to compete for new projects and new clients.
7. Technician Churn
If you're like most MSPs, at some point you've probably lost a technician, scrambled to find a replacement and struggled to provide quality service. When faced with technician churn, the time spent searching for a replacement takes away from time you could be spending on client-facing activities. Again, having access to technical resources will reduce your risk of lost profits if a technician does leave.
8. Too Many False Positive Alerts
While RMM solutions are great at notifying you of issues, they can also be great at notifying you of non-issues! RMM solutions typically generate lots of false positives, which means your team has to investigate more issues before determining there isn't a problem. Reducing false positives will make sure your team is only notified when action needs to be taken, which can dramatically reduce time to resolution and increase the amount of tickets your team is able to manage.
9. Lead Generation
Buying lists and relying on referrals – two common indicators that an MSP is having a hard time generating their own leads. It's hard to run a business and service your clients, and even harder to find time for marketing as well. Take control of your growth, and make sure your partners provide knowledge, support and materials that help you market and sell your services.
10. Ticket Categorization
Not all tickets are created equal. Some issues need to be resolved immediately, while others require certain expertise or can wait until the weekend. Effectively categorizing and routing your tickets will help your team operate more efficiently and fix issues faster.
11. Level 1 and 2 Client Support
Supporting your clients is part of the MSP job description. But basic support tasks, like password resets or connecting to printers, can be incredibly disruptive to your team's productivity. Offloading Level 1 and 2 support can free up your team to work on more complex, revenue-driving projects and reduce technician fatigue.
12. Patch Testing and Management
Clients have visibility into patch management, so it's especially important that you adhere to best practices and monitor what gets deployed. The problem is that it can be incredibly time-intensive to thoroughly test patches to ensure minimal impact on your clients.
13. Maintaining Margins
Managed services can be a volatile business. One minute everything is under control, the next you have four clients calling you at the same time because their systems are down. This makes it incredibly difficult to maintain consistent margins and profitability. Outsourcing some of this support enables you to fix more of your service costs and stabilize your margins.
14. Calculating Total Cost of Ownership
The cost of your solution(s) is a lot more than the invoice you receive from your vendors. In a services business, you need to understand all of the factors that contribute to the cost of ownership, in particular, the amount of time your team spends using and managing the solution. Make sure you're looking beyond the sticker price to calculate your service costs.
So Now What…
With the New Year, review your business and identify inefficiencies that you can improve going forward. If any of these common challenges sound familiar, you should take a look at your solution(s), your processes and your strategies to make sure you are maximizing business efficiency and profitability.
Is it time for a change? Our new tool lets you select your worst pain points and tells you what to look for in an RMM solution. Check out the RMM Wish List Generator here!
Nate Teplow is a Sr. Product Marketing Manager at Continuum, currently managing the company's RMM marketing initiatives. Nate's experience spans inbound marketing, content strategy, marketing communications and B2B lead generation. A proud Miami Hurricane alumni, Nate enjoys staying active, traveling to new places and performing A/B tests.