In the last article, we talked about Facebook Graph Search - one of the major changes to the popular social networking site since
it was launched in 2004. This feature makes Facebook more interactive and personalized. It also offers accurate and almost predictive search results. Basically, it is designed to improve searching on the site. Users simply have to input what they want to search for, and Facebook can figure it out and provide results. If you would like to find out more about this feature, read the
first part of this write-up
.
We have learned from the last article that Graph Search could vastly increase new traffic to Facebook Pages and eventually new prospects. Thus, it is high time to be prepared as you could witness improvement in your online presence and reap the rewards. This article focuses on how you can optimize your Facebook account and Page to best benefit from Graph Search.
Optimizing for Graph Search
Consider these things to ensure that your business' Facebook Page is optimized for Graph Search
1. Start with the Basics.
The heading says it all - start with the basics. Before doing anything technical, start with your profile. Check the information stated on your About Page. Make sure that the business and email addresses are correctly written, and the website info plus contact numbers are updated. Do not overlook spelling and ensure that links are working properly; that they open to the intended Page. As much as possible, enter items in every field. These things are important for people to get to know you better. Additionally, content in description fields should be well written, you could even place keywords strategically to help optimize your Page.
If you are not very confident about your grammar or spelling, there are tools online to help you. Check out sites such as Internet Marketing Ninjas. If you want to see how your Page looks from a user's view, login using another Facebook account and try to search for it. Browse through your Page and check all the information written in it.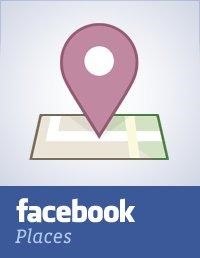 2. Take Advantage of Facebook Places.
Graph Search aims to make Facebook highly usable for subscribers. It could also attract more users or even help to compete with major search engines. If a user wants to search for something and they are currently logged on to the Page, they no longer have to go to Google or other engines. As a business owner running a Facebook Page, it is a good idea to claim a local listing for you to be searchable. You may encourage friends to check-in when they visit your Page.
The very reason this is essential is because Pages that have more check-ins show higher in Facebook search results. The same goes for likes and votes on your page. The more you have, the higher the chances of ranking well in search results leading to increased visibility.
3. Check your Privacy Settings.
If you have a personal account on Facebook, you usually set the privacy settings as a form of security. You also use it to hide some information to someone. However, most businesses use social media to gain exposure; they want to be highly visible and searchable.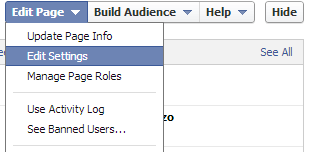 If you want to check your Page's privacy settings, login to Facebook using a personal account that has access to it. Look for the "Edit Settings" option at the "Edit Page" menu.
It is suggested that you set your settings to allow better engagement to your business. You do want to allow people to post messages and photos to your Page, right? Adjustments can always be made in case problems arise. You can block some abusive users anytime.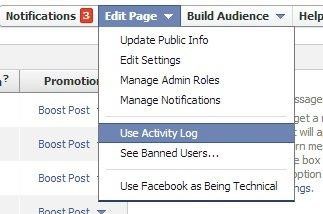 4. Manage your activities.
Graph Search allows your posts to be searchable. Check your timeline to see if all of your activities are consistent with your business objectives. Be sure that your posts, comments and likes will result to a positive image of your company.
The way to do this is to simply go to your Facebook Page, select the "Edit Page" menu and click "Use Activity Log."
Under "All" option, you can see all your activities. Scroll down the list. If you see some that should not have been posted, you can easily delete them by clicking on the pencil icon found at the upper right side of the activity. Choose the option "Hidden from Page". If you do not like something that was posted on your Page by others, you can do the same process as above.
Take time to check out your photos, comments and likes because the Graph Search feature makes use of these three things to search your Page. Be sure that your likes, comments and images reflect a positive view of your profile or business. Again, if you find something unpleasant, you can freely hide it from your timeline.
Checking all these information on your Facebook Page could take a while, but it is a sure fire way to help leverage what Graph Search has to offer.
5. Make your Page better.
After optimizing your Facebook Page, it's time to use Graph Search. Here are ways to leverage this feature and improve your business impact.
Find current customers. As a local business owner and Facebook Places user, you can use Graph Search to look at those who have checked in to your business. You can just key in "People who checked in at" and then the business name. You can also take a look at the people who liked your Page. When you find them, you can reach out to them by saying thank you and that you appreciate their liking your Page. You can even ask them to review you.
Find those who are like you. You may also add potential customers and fans by searching for people who might be interested in what you do. For instance if you own a café serving the best frappuccino, you can type, "People who like frappuccino in (your area)".
If you feel awkward messaging people you find on Facebook, try entering other keywords for your search and see how many people you can find. Keeping track of this gives you insights into launching ad campaigns on Facebook targeted at particular users, increasing the exposure of your brand to significant market.
Scouting new talent. If you want to find a new talent, you should be looking at where they are, and Facebook can be the right place. Your business has its own culture, so search for the ones who like it, and are interested in things similar to what you offer. You may also search for people who have experience in the kind of role you are looking for. For example, you can key in "People who are baristas in this area."
Create better galleries. If your business is service-based, such as a restaurant, a good way to attract customers is through Facebook. This begins by featuring high-quality images of the dishes served. The problem in taking pictures is that it might be time-consuming and costly once you ask a professional photographer to do it. You may even find that your customers take pictures of your specialties using high quality cameras. Why not use Facebook Graph Search to look at the photos taken from your business.
You can encourage users who took your photos to share them on your Facebook Page. These photos could be placed in a gallery that is open for the public to see.
The new Graph Search in Facebook offers significant changes to many businesses. It is best to be prepared for it. If you would like to learn more about how your company could benefit from this feature, call us now and we are willing to help.