It's not just the grocery store around the corner or the one-room bookshop down the street. Small and midsized businesses are the technology firms, daycare
centers and manufacturing plants upholding the American and global economies.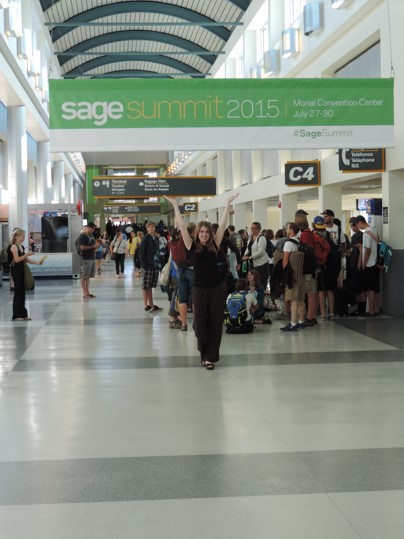 At "Imagine Now," the 2015 Sage Summit, small businesses were the stars of the show, and rightfully so—with around 8,000 attendees from 64 countries, it's the largest conference focused solely on SMBs. The conference was grand in scale, and revealed a new direction for U.K.-based Sage.
As the crowd flooded into the keynote each morning, we were greeted with this statistic: 99 percent of the world's companies are small and midsized businesses.
The panoramic screen flashed up more statistics: Minority-owned SMBs employ 4.8 million people in the U.S. alone. SMBs produce 14 times more patents than enterprises in the same industries. SMBs are game-changers.
Sage switches direction
Historically, Sage acquired market leaders or second-in-the-market companies with SMB-focused products to draw in more and more customers, becoming an amalgamation of solutions without a clear focus.
In the last six months, Sage transitioned into a new era under a unified brand and comprehensive solutions designed to create consistent customer experiences, said Aimee Ertley, Sage North America director of external communications.
Sage unveiled myriad new products and projects at the conference, including Sage 100c, Sage 300c and Sage Live. Its new solutions are scalable, Sage Payments CEO Paul Bridgewater said, and will provide reliability as it looks to drive customers onto a simplified subscription service.
Partnerships with Microsoft and Salesforce, among others, will drive continued growth of Sage's solutions and simplify accessibility to tools.
New Orleans, new opportunities
New Orleans was devastated by Hurricane Katrina in 2005, but the vibrancy of the city continues today. The open container laws and river of drinks make New Orleans a perfect place to network with industry leaders, analysts and journalists from across the globe.
Just like Sage, the city of New Orleans continues to unite for growth and was filled with small businesses, making it the perfect environment to discuss the futures of Sage and small business.
#SageAdvice from keynote speakers
"Maybe it will be better, and maybe it won't be. But go to bed thinking it will be better." Colin Powell.
"Status quo just does not cut it anymore." Sage North America President Jodi Uecker
"Two words: Love. Service. Period." Deepak Chopra
For more information on the Sage Summit, visit http://na.sage.com/sage-summit or search #SageSummit and #SageAdvice on social media.