Old Lyme, Conn., November 9, 2015 – Sennheiser, a leading provider of premium headsets and speakerphone solutions, announces the launch of its new wired deployment
headset Culture Plus. The new headset series is designed to facilitate office workers' adoption of Unified Communications (UC) solutions and help activate their full potential.
Culture Plus headset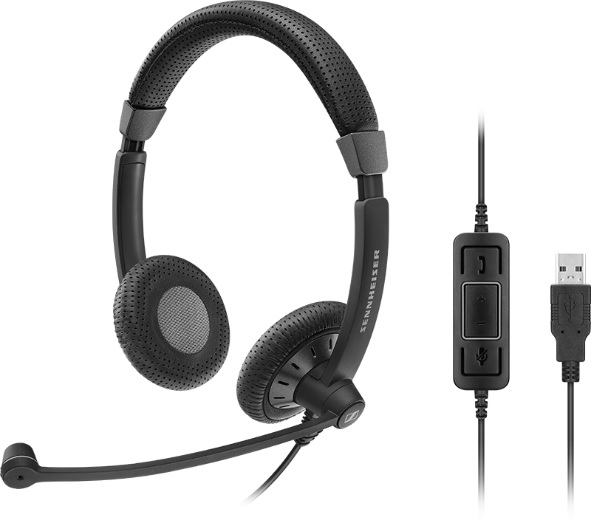 Transitioning to UC environments means changing habits and communication cultures – within the organization as well as for the individual employee. As a direct communication interface between people, headsets play a significant role when implementing UC and positive communication experiences are crucial for higher adoption rates and hence a positive Return on Investment (ROI).
Sennheiser's new Culture Plus wired series has been specifically designed for UC environments and swift user acceptance. The new, comfortable headset combines Sennheiser's outstanding sound quality, 'instant comfort' features and an attractive design. Certified for Skype for Business and compatible with all major UC and softphone brands, the Culture Plus series is ideally suited for enterprises and offices that are adopting a new UC work-culture.
Culture Plus features Sennheiser's sound quality, benefiting caller and listener alike. Sennheiser Voice Clarity, which is based on wideband sound, provides a warm, more natural listening experience while the noise-cancelling microphone ensures optimum speech intelligibility by filtering out ambient noise, delivering an optimal communication experience even in the noisiest environments. In addition, sound enhancement profiles automatically adjust audio settings to optimize either the voice quality of calls or the user's multimedia experience. Culture Plus also features Sennheiser's advanced ActiveGard™ technology developed to safeguard users from acoustic shock and sudden sound bursts.
The new headsets' sleek look and quality design help ensure rapid user adoption. The stylish, contemporary appearance has been crafted with the user in mind, ensuring a good look whether used at the office desk or during video calls. The flexible, lightweight headband features leatherette padding that adjusts for a personalized fit, while large, acoustic foam ear pads with soft, removable leatherette covers ensure flexibility and wearing comfort throughout the day. The bendable boom arm allows the microphone to be placed in perfect position to ensure optimal microphone performance.
A functional in-line control unit ensures calls can be managed intuitively and seamlessly with the touch of a finger. In addition, the unit controls the switchable Noise at Work limiter compliant with EU's Noise at Work Directive¤¤. When not in use, the headset can be stored and transported in a practical carry pouch.
"Headsets are an important consideration in any UC deployment", says Lars Riis Rasmussen, Vice President of Sales and Marketing, EMEA, at Sennheiser Communications. "Culture Plus is an ideal solution for organizations that want their office workers to rapidly adopt headsets in a UC environment. It combines Sennheiser sound quality and instant wearing comfort in a communications experience that will make it easier to enjoy the benefits and activate the full potential of UC solutions."
The addition of the Culture Plus wired series complements Sennheiser CC&O's broad product portfolio of headset and speakerphone solutions for contact centers, office and UC environments, which capitalizes on Sennheiser's 70 years of sound leadership, research and development.

About Sennheiser
Audio specialist Sennheiser is one of the world's leading manufacturers of headphones, microphones and wireless transmission systems. Based in Wedemark near Hanover, Germany, Sennheiser operates its own production facilities in Germany, Ireland and the USA and is active in more than 50 countries. With 18 sales subsidiaries and long-established trading partners, the company supplies innovative products and cutting-edge audio solutions that are optimally tailored to its customers' needs. Sennheiser is a family owned company that was founded in 1945 and which today has 2,700 employees around the world that share a passion for audio technology. Since 2013, Sennheiser has been managed by Daniel Sennheiser and Dr. Andreas Sennheiser, the third generation of the family to run the company. As part of the Sennheiser Group, the joint venture Sennheiser Communications A/S specializes in wireless and wired headsets and speakerphones for contact centers, offices and Unified Communications environments as well as headsets for gaming and mobile devices. In 2014, the Sennheiser Group had sales totalling €635 million. www.sennheiser.com

For more information on our professional headset solutions, please visit www.sennheiser.com/cco