Kaspersky Lab, an endpoint protection solution provider, announced today the latest edition of Kaspersky Small Office Security, a security solution built for SMBs with fewer
than 25 employees that protects Windows- and Mac-based devices.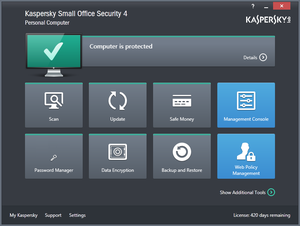 SMBs, frequently targeted by cybercriminals because of perceived easier access to data, require increased security in an increasingly dangerous digital environment.
"Running a small business can be very exciting and fun, but being small doesn't mean being less noticeable by cybercriminals. It's very important for businesses to pay more attention to ensuring their cybersecurity, and Kaspersky Small Office Security has made it easy. It's straightforward to install, simple to configure, and easy to maintain, so that business owners can get on with doing what they do best: making the company a success," Konstantin Voronkov, Head of Endpoint Product Management, Kaspersky Lab.
Key features of the new edition include enhanced threat protection, cloud-based management console and password management, and improvements to security for financial data.
P.S. Be sure to attend our online Office 365 connected conference, June 2-3. No travel, no hotel, no traffic! Sign up at getconnected.o365nation.com