Azure is Microsoft's own offering of the integrated cloud services with a wide range of features that can empower you to build enterprise-class apps and platforms. As with any cloud-hosting service provider, Azure provides you the flexibility and agility to handle your fluctuating business demands, while the pay-per model ensures that you only pay for the resources you consume.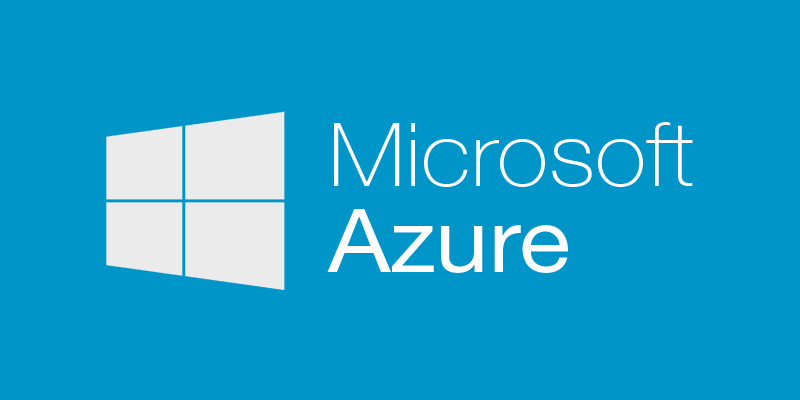 Before we dive deeper into the built-in solutions and managed services that Azure provides, let's take a look at what makes Azure different from other cloud computing solutions, or on-site IT implementations for that matter.
Why use Azure?
Ease of Usage:

Just like AWS, Azure boasts of multiple tools and pre-built templates or instances that you can use to build your web, mobile or Internet of Things app very fastly and efficiently. With Azure, build your product and launch it to your customers in a matter of days for what could take months by conventional means.

Integration:

Azure allows ease of integration not only with your existing apps and platforms but also with your existing on-site IT infrastructures.

Almost all the popular OS, programming languages, platforms, frameworks, databases, and tools are compatible with Azure. So you can either build your app with PHP, Javascript, .NET or build back-ends for your mobile apps across various operating systems.

Also, through hybrid database and storage solutions, Azure can easily integrate with your existing data centers to give you the best of both onsite and cloud computing implementations.

Scalable:

As with most of the cloud hosting solutions, Azure hosting solutions scale as your business demands grow. You are never committed to a resource and Azure's 'pay-as-you-go' service ensures that you only pay for what you use.

Besides, Azure boasts of Microsoft-managed datacenters across 32 regions in the world, which is currently more than AWS and Google Cloud combined.

Security:

Many SMB executives are still doubtful when it comes to security in the cloud. Microsoft Azure is one of pioneers in cloud security and protection. Azure was the first major cloud hosting providers to embrace the new international cloud privacy standard, ISO 27018 and adhere to the EU privacy laws. Additionally, Azure has launched 'Azure Government' especially in the US to adhere to the compliance requirements of US public agencies.

Some Azure solutions ideal for SMBs
While the above advantages are offered by pretty much any cloud provider, including the big players in the industry, it's actually Microsoft's brand name along with the ready-to-use solutions offered by Azure which make it a great tool for small startups and businesses. For each of these solutions, Microsoft provides you the complete technical documentation and access to partner resources to help you get started easily. Azure has a vast list of such solutions; let's take a look at some of which are particularly suitable for SMBs.
E-commerce:

Azure provides a flexible and open e-commerce platform which allows you to sell products to your customers 'intelligently'. Through the built-in tools, you can analyze factors such as site traffic, conversion optimization, abandonment zones and customer behavior & history to create personalized sales funnels and tailor-made offers and recommendations for customers. This results in a more personalized shopping experience and increases customer retention.

Azure also extends these functionalities to your supply chain and customer service sectors. You can build self-help portals for suppliers to streamline your supply chain, improve inventory management and reduce support costs. Besides, the scalable solutions by Azure assure you of a continuous uptime even at times of peak demand, so that you can devote your time and resources to business-critical functions rather than IT infrastructure.

Azure has many related products and services to aid your e-commerce venture and also offers pre-built e-commerce frameworks in the marketplace to help you get started.

Digital Marketing:

Azure offers in-built tools to handle the Digital Marketing functions of your business that acts on real-time data and analytics. The platform makes use of customer data, feedback, history and behavior along with intelligent predictive analytics to devise and understand different customer profiles. It then builds personalized marketing campaigns for these profiles and analyzes and optimizes these campaigns in real-time based on user behavior and responsiveness.

Business Intelligence:

Azure offers a wide range of predictive analytics services such as Machine Learning and Cortana Analytics, which helps your business to make better-informed and smarter data-driven solutions in real-time. Azure allows you to use the numerous 'Power BI solution templates' to create a feature-rich BI platform that will provide you with intelligent insights. These platforms also allow you to make use of data to create fully interactive and visual apps for your users.

Apps:

Azure has many functionalities when it comes to user applications.

Azure makes use of predictive analytics and machine learning to help scale your SaaS apps as your business grows, helping you to scale your business model efficiently. Further, you can rest assured that your customers' data is always protected as Azure allows you to isolate data in separate databases. Azure also allows you to use 'Power BI Embedded' to deploy sophisticated features as Image Recognition in your apps and deliver rich and interactive visualizations to users.

The 'Dev-Test' solution by Azure provides you cross-platform functionality to test and build your applications. Deploy and use virtual machines on a pay-per-use basis to expedite your development and launch new features and updates in a matter of days.

Azure's MBaaS (Mobile Backend as a Service) allows you to develop mobile apps for your business across all the operating systems by compiling in a single language. MBaaS allows you to find and fix bugs easily and distribute beta versions of your apps to a development community to collect real-time data and improve your app.

Backup & Recovery , DR:

Azure offers the 'Backup as a Service' and Restore Solutions that enable you to run your business even when your onsite IT implementations are damaged. Reduce the expense on storage devices and tapes as your business grows and leverage Azure's pay-per-use cloud storage model to make a backup of all your business instances.

Azure's DRaaS provides you with business continuity during natural or artificial catastrophes. Eliminate the cost of secondary datacenters and losses due to downtime by making use of Azure's data recovery solutions which assure you low RPOs and RTOs for every business-critical instance at affordable rates.
Cloud solutions such as Azure open up a world of possibilities for your business where you can scale your business model without any initial heavy expenditure. Azure is made to handle any type of business load: from a small dev-test project to a global product launch. More than 66% of the Fortune 500 companies use Azure. If you are still relying on onsite IT infrastructure, it's time you give cloud solutions as the Azure a shot. It's free to get started!