end of support (EOS) for Windows XP (along with any Server 2003 and Office 2003) is April 8, 2014. Before I go one step further, it's essential for you to understand the Spiceworks audience. It's historically been over 90 percent in-house IT Pro from all company sizes. In recent years, it has made strides in reaching into the SMB IT Pro Community and specifically, the partner channel. Keep this in mind as you review the study results with me.
You'll notice I placed an asterisk on the headline where I wrote Windows XP* and there is a very good reason for this. The Spiceworks study, released in late December, revealed that 76% of IT Pros have *some* devices running Windows XP today and that over 1/3 (36 percent) will leave at least one machine running Windows XP after the EOS date. This study marches to a different measure, as it's not a whole number macro measurement that would reveal approximately 30% of the world's fleet of computers that are still running Windows XP. "The data clearly illustrates how prevalent Windows XP remains 12 years after its initial release," said Kathryn Pribish, Voice of IT Program Manager at Spiceworks. "The next four months will be a busy time for the majority of IT professionals migrating XP-based systems and for the vendors who can provide professional services and support for resource-strained IT departments."
What I like about the study is that it sizes up the Windows XP migration opportunity for the SMB Nation IT Pro seeking consulting opportunities. It's unlikely you'd walk into a small business that is entirely Windows XP devices today. Rather – you are likely to bump into an SMB that has "some" Windows XP devices in its fleet. For the sake of example, assume a firm with 30 PCs might have ten Windows XP machines. The other machines in this example are highly likely to be Windows 7. In fact, the Spiceworks study found that 96 percent of IT Pros have Windows 7 present on their networks (versus 42 percent having some occurrence of Windows 8.x and 30 percent running at least one occurrence of Apple's OS X). In talking with Pribish and Peter Tsai of Spiceworks, the "breakage" to Apple and even Google wasn't really surveyed for this study.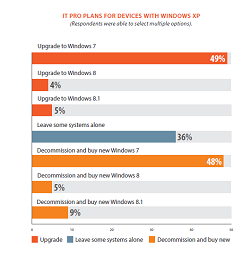 Migration Upgrade Paths
When allowed to select multiple options, the majority of respondents indicated they'd do in-place upgrades to Windows 7 (49%) following closely by the rip-and-replace option (48%) of purchasing a new machine with Windows 7. I'm in complete agreement that Windows 7 is the popular upgrade path. However – I'm suspect that such a high percentage would even consider an in-place upgrade. My research doesn't align with the Spiceworks study, and that's okay as it's a free country! The figure below indicates how the number exceeds 100%, as respondents could do both an in-place upgrade and rip-and-replace at their business establishment.
Migration Schedule
I'd like to offer no one has studied the Windows XP migration matter more than the team at SMB Nation over the past year. What surprised even us was the slow rush to migrate away from Windows XP. The Spiceworks study was the first that I've reviewed to address the scheduling and duration issue. In the current 4Q 2013 timeframe, as the figure shows, the movement is in the single digits. This migration motion will essentially triple in Q1 2014 and still have significant legs after the EOS deadline. I concur and endorse this finding, based on my own research and the learning from the Lenovo-sponsored "Million Mile Migration Madness" tour currently crossing the US presented by SMB Nation.
Bottom-line is that it all amounts to an unexpected delay in upgrades. Reasons cited for the delay (procrastination wasn't an allowed responseJ) include lack of budget, time and resources. Application compatibility ranked last on this excuse list.
Are you needed?
This Spiceworks study give mixed results here. On the one hand, it reveals that 2 percent of the respondents will use outside help (that's you, the SMB Nation IT Pro) for help. A whopping 97 percent of the Spiceheads say "We will handle ourselves." I disagree and here's why: lack of time and resources. Even internal IT resources will need to augment with IT Pro partners once the scope of the work is clear. Also remember the audience. I started this conversation sharing that the Spiceworks audience is arguably 90 percent in-house IT so it's data is going to miss the "S" of SMB. Agreed?
Resources
So I really liked the Spiceworks study. It's one of the best I've found to date and very real world. Titled "Getting Over Your XP," You can find it here: Getting Over Your XP. Enjoy the read as I've only shared about half of the research with you.
One more resource: I found this bonus conversation at the Spiceworks site to be engaging.