By Tim Kelsey, Pronto Marketing


In its goal to deliver the best marketing analysis tool to businesses, Google has recently made vital
improvements to Google Analytics - Google's reliable Web-based analysis tool. Although there were new reporting features added, many of the existing features remain the same. This goes to show that the recent improvements made by Google are a clear statement that they're keen on developing a more solid and profound marketing analysis platform.
What's been added?
Getting website traffic statistics is widely considered to be a generic function nowadays. In order to make this function stand out a little more, Google has renamed Traffic Source reporting to Acquisition. This renaming entails a clear shift of how you understand your traffic related data. From now on, you'll be able to see not only basic traffic data but also how your pages have obtained visits, new clients, leads and conversions (among many others).
The Acquisition report section now has two new essential reports, the Channels Report and the Overview Report. But fear not, the other report sections like the Campaign Reports, Organic Keywords Report and All Traffic Reports can still be found in the report sections.
Defining "channels"
Before we even delve into these new reports, it would be a good idea to know what Google means by "Channels". Multi-Channel Funnel, a Google Analytics feature, was released a couple of years ago. Combined with the conversion funnel, this feature allows users to figure out traffic sources have the most impact on visitors.
Similar traffic sources are grouped into categories or "channels". Take for example the Organic Search Channel which groups together traffic that comes from organic search keywords. The Social Channel, on the other hand, collates the traffic referred to your page or site through a variety of social networking sites.
The main purpose of Channels is to allow you to track the performance of your page at an upscale level.
The Acquisition Overview Report
Gone are the days when you need to gather several reports in order to get a full grasp of the performance of your website. Google Analytics now makes it easy for every website owner and webmaster to analyze your website's data. This is the Acquisition Overview Report.
The most exciting part of this function is that all your top level data is grouped together in a single detailed report. As you use this report, you'll find that you can easily compare the various traffic channels to KPIs for your entire website. This covers the newly acquired traffic to the behavior of your website visitors, and also conversions.
Advanced Segments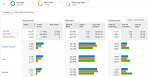 Advance Segments is one of the most functional features of Google Analytics. This feature allows you to compare the various visitor segments across the channels of your website. As a user of Google Analytics, Advanced Segments will certainly make your data more valuable.
Many businesses find that their websites are losing traffic. Don't fret, because there are a lot of different ways to attract people to tread back to your website. These include increasing social media followers, adding more people to your newsletter subscriber's list, creating an out-of-the-ordinary advertising campaign strategy and spreading your content marketing like a wildfire. People will certainly visit your websites again with these listed tactics.
Customized Channels
If you have a customized campaign or other traffic sources that don't match the default channels, you have the option to create a customized channel based on your own liking. Creating your own criteria for your specified channel is possible, through the Multi-Channel Funnel feature.
This feature allows you to create detailed traffic sources using your own preference like breaking the Organic Search channel into keywords that have been branded and others that have not been branded.
As of this moment, creating new channels is not available in the Acquisition Overview Report section. However, it is safe to say that Google Analytics, with the kind of branding they have, will include this option in future updates.
Conclusion
I've found several insightful and exciting things in Google Analytics just by playing around. I ended up comparing data, going 3 - 4 steps deeper when digging through the application and just simply connecting the dots.
Most people see Google Analytics as a traffic analyzing application that's too complicated to use (trust me, it's not hard to use AT ALL). Others use it because they're looking for several personal data like the IP address of the viewers. But for me, I find Google Analytics to be the perfect balance between detail and simplicity. And with the current changes that they've implemented, there's no doubt in my mind that Google Analytics is getting closer to becoming a well rounded and comprehensive marketing tool that everyone's needs it to be.
Tim Kelsey is Director of Marketing Services at Pronto Marketing, leading a team of MSP online marketing professionals in SEO, AdWords campaign management, social media, content marketing and more.