Social networking sites have become a significant marketing platform, especially for all small businesses. For many businesses, these platforms are the easiest and
most inexpensive way to reach out to customers. You cannot even imagine a marketing program that does not include social networking platforms like Facebook. Who would not make use of a top social site that has over a billion users? In fact, a Facebook Page is already a must-have for pretty much every business. The best thing about using it is that Facebook's developers continue to think of ways to improve features and service, benefitting all of its users.
One of the key components to Facebook is the all-important Graph Search, first introduced almost a year ago. Graph Search was a significant change to the social networking site, yet many businesses are still unaware as to how it works and how it can benefit their business.
Graph Search Defined
Similar to major search engines Google and Bing, Graph Search uses a special algorithm to power Facebook related search results. However, it is different from other search engines due to the fact that it's "semantic," meaning it tries to understand the intent and context of the search terms; rather than base the results on keywords. Graph Search is designed to show results that are based on the information in the user's profile as well as that of their friends. Additionally, it is affected by privacy settings of users.
When a user enters words into the search bar, you see results with suggested friends or the nearest connections, pages, automatic topics and Web searches. Basically Graph Search can figure out what you are looking for and provide you with what you are looking for via your friends and connections.
How it Works
Now that we already know that Graph Search searches for items using information from your friends and connections, let us try to understand how it actually works.
In the previous version of Facebook, searching is based on keywords and filters. For example, the image below shows what a user sees when they enter the word "pizza" using the old search tool.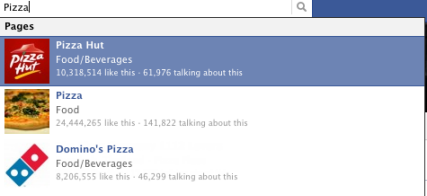 As you can see, when the user enters the search term "pizza", the results were pages, places and apps with the word "pizza", this is because it is keyword-based - finding and showing search results much the same as you would expect with a Google search.
Graph Search is designed to provide results based on the user's natural language and not on the list of links. It combines the huge amount of data collected from Facebook users as well as external data in order to provide more useful search results. Its algorithm looks for information found within a user's network (friends) plus additional results provided by Bing. So as you can see from the image below, using Graph Search, the phrase "pizza places nearby" results to the nearest pizza parlors in the area.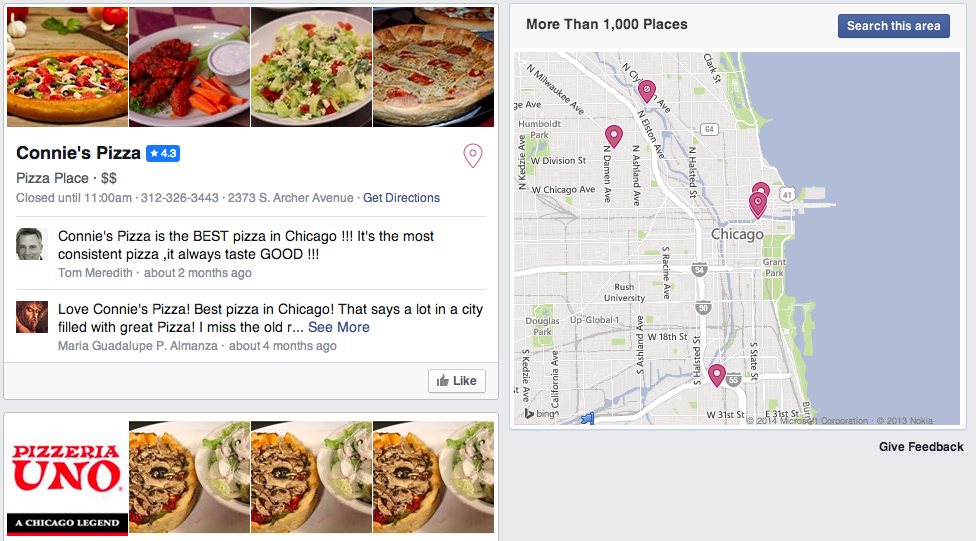 When a user enters a phrase, Graph Search is able to provide results based on how it understood what was written (context). It tries to connect each word and not just provide results that have the entered word (keyword) in it.
Graph Search differs from major search engines because it uses information from your circle of friends, or even relevant information from users with "public" privacy settings. Its huge collection of data includes results that are first based on your network. In other words, it shows photos, posts, and pages from your friends' first that are most relevant to what you are looking for.
Referring again to Image 2 above, Graph Search is able to understand that the user is trying to look for the nearest pizza parlors in the area. You can try to search "pizza places nearby" in your Facebook account as well.
How Does this Help your Business?
Graph Search is really intended for public users. If you visit its main website, you will notice the rotating banner that emphasizes the three major benefits of Graph Search. These are:
Find people who share your interests.

Explore your world through photos.

Discover restaurants, music and more.
The new Graph Search for Facebook supports searches for people, pages, places, check-ins, and objects with location, posts and comments. As a business owner, you can benefit from better "visibility." Facebook could provide accurate results, and more importantly, results that have been tried and enjoyed by trusted people in their circle (friends) which gives users the idea that this establishment is worth the try.
To better benefit from this new feature, make sure that the "About" section in your profile is updated and complete. You should also make sure that the location information is specific. Most of all, build and maintain your social marketing and engagement on Facebook to reap the benefits of this innovation. If you would like to learn more about this feature, watch out for the second part of this article.