MSP Corp raised $35 million in new capital to acquire and or invest in MSPs in late September. MSP Corp is a Canadian based company who acquires and partners with high-performing Managed Service Providers in Canada and the United States to provide resources, technology, and business support to empower exceptional MSP teams.
In todays landscape MSPs face huge hurdles in their day to day operation. Not only are they expected to provide industry leading technology, business guidance, and advice to their clients, they still need to manage the daily operations of their own business. We meet with Ravi and David as they share with us what MSP Corp has to offer, as well as strategies to acquire and invest in managed IT service providers across Canada.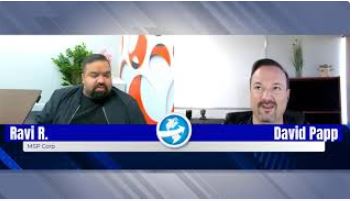 Video Transcription
Harry Brelsford
Hey nation nation, this is a special podcast, webinar interview, whatever you want to call it, I'm with Ravi and David. And they have some breaking news. MSP Corp raises 35 million of growth capital to accelerate acquisitions. We'll talk about that seems like a mega trend. So first of all, gentlemen, if you could briefly introduce yourself, your company, what your role is, give me a little context. And we'll just have a conversation.
Ravi R.
Sure, David, go first, if you want. So Ravi, right. one of the cofounders of MSP Corp. And at the company. My main role is focused on m&a. So mergers and acquisitions. So that's everything from the lead generation to closing the actual deal to working with the operator pros close. We started the company back in January 2020. We had our first round of funding, then through CNBC, which is a national bank in Canada. And here we are today talking to you. My background in the space is actually as an original break fix guy working for David, when I was 18 years old. And then over the time, you know, that kind of turned into an MSP. I sold off a part of it in 2015, kept four clients, and then I kind of kept those clients going. And then late 2019, I met Jason, he gave me the pitch to do MSP Corp, and said, you know, the space is booming, lots of capital. And lo and behold, here we are today. And then David has a, I think a more fun story. So I'll let him go
Harry Brelsford
over to you, David.
David Papp
So I'm David Papp. I'm the Chief Technology Officer for MSP Corp. And help manage from a technology perspective, what our portfolio of sub companies look like all the partners and the operators and whatnot. But I am very heavily involved right now in some integration projects, and making sure the teams are working together cohesively, and that we have a standardized it tool stack. And we're also working on a big ERP system that we're putting in place as well. So there's a lot of things that are getting in motion to get everything working and humming along like a great engine. My background. I've been, I've been an entrepreneur, my entire life never actually worked for anybody. I had my first company when I was 14, you know, working on old computers and stuff I've been in I've had been in the space for well over 30 years. I'm a professional engineer in Computer Engineering as my background. But I always jokingly say that doesn't really mean anything. It's just a credential. Honestly, it comes down to experience in the space, right? And you know, when back in the 90s, and in the 2000s, I was CTO of another public company, have played with a lot of startups had a lot of fun, did the what we call the MSP thing before it was called an MSP? Yeah, in the day, we had things like application service providers, msps. And we had then we got into software as a service. And we have we morphed into all these things over time, and honestly had a lot of fun. What I noticed though, and this is the kind of the core of our belief, is it all came down to monthly recurring revenue. And so what happened is back in the day, a lot of people were focused, I feel on this whale harpoon gun mentality of going after the big deal, and selling big projects and wasting lots of cycles. And that's why people kind of fizzled up. And then when Ravi and I started working in the early, early 2000s, I'm telling you, that was awesome. Like we this MRR thing was the way it's companies that couldn't afford to have their own full time tech person on staff or if they did, they needed an augmentation because that person couldn't possibly know everything. So we built on that and built out an amazing client base. And then racv was like this like go getter, like he was like the Energizer Bunny. And I'm telling you, so what I ended up doing a deal back then, and I sold on that part of my business and then he ran with it and grew it into like crazy, huge clients that we have today that honestly have been rolled back in. And if we complete the circle, we're back into this MSP cart. With all of these companies, we still have those original clients that are amazing along with all this other revenue. And and it's all focused on bottom line, I'm sure ravio will agree on that. Like we want monthly recurring support clients manage services that we provide to clients. And ideally, we want it to be in the cloud. And that's the difference between us and other traditional IT companies is they're still focusing on what I call legacy services, legacy infrastructure, single point of failure. There's no expandability no collaboration like seriously who's still using pop an iMac email accounts you should be using 365 you should be using the Google workplaces like this is dumb stuff but Really, this is our philosophy, we want to get our clients into where they should be because they their businesses run better. And he was I don't want to rant on about this too much. But we're very passionate. It's
Harry Brelsford
probably a follow up podcast. So no, no, it is Jenny, if you could make a note, let's talk to these gentlemen, first year, we were talking about flying fast the years going. So let's all just catch our breath. And we'll we'll we'll follow up on that. But, Ravi, know, how is how is your company different from other companies already doing this same thing.
Ravi R.
So I think the fundamental difference, and this is my opinion, so there's essentially three people in the industry, you've got your traditional private equity firm, you've got your large cap it kind of MSP. And then you have like, a couple players like us that are essentially operators, rolling up partners into a larger group. So I like to say that we're like family, and that our main focus is on acquisition across the spectrum. Whereas you know, traditional private equity, his main focus is on return of equity, right? You've got partners, they probably have an MBA from Harvard, their job is to take billion dollars, allocated 20 ways and get a return on their capital. Ours is different, in my opinion, because we did the groundwork, like, David can tell you this, like I'm the guy who was up at 3am, wiring a server, because you know, he got the hard drive blown, and array config. You asked that to anybody pretty much in finance. And that's like, nothing. Right? And so I think that's the main differential is that because we worked at the ground, first, we understand the operator, we understand the culture. And for us the big, big, like, goal, all of this is economy, like, I want people to have a way to exit their business without having to worry about is their staff going to be fired? Are their clients going to be taken care of? Do the operators understand insurance, cybersecurity, the big like, things that are currently hurting msps right now. So I think like, in a nutshell, that's what makes us different is that we're operators, acquiring other operators. Yeah. And that's, I think, the big play with us that we're like, as of right now, we're the biggest operator acquiring operators, there's really nobody else again. And I say that in context of, we keep them independent, we don't roll them in. So just there's obviously again, three different kinds of private equity, the rolling type, and then ask that keeps them independent.
Harry Brelsford
Well, you've probably answered, I had a couple questions, but but let me say them, and then maybe you can break it from a different perspective. So what I'm hearing is, you don't consider yourself a private equity firm, and you're not doing the traditional roll up play where you flip them. Correct. I think that basically just said that,
Ravi R.
you know, yeah, you nailed it. Our our master vision is to have a network in every province, every state, so that you can one bit across all your deals, to have massive buying power. And you could consider us like a gigantic peer group of companies. That's the that's the master vision.
Harry Brelsford
Yeah, that's interesting, because another conversation I had many, many years ago, was, did we want to think in terms of like a groovy Co Op? If you think of offer very, very common in agriculture with electricity. Right? And so those who are always more friendly, right? I I'm not sure you would say private equity people are the friendliest people.
Ravi R.
You know, what, there is some great guys and private equity that we actually don't I'm sure they're gonna probably want this, because we're on it. But I think for us, again, the big differences, we are real operators, we're not trying to pretend you're not selling to a random company. Like, if you told me tomorrow to go fix the Unix server or a Cisco router, or the you know, the Exchange servers down, I can actually fix that token, David. And that's a big fundamental difference there.
Harry Brelsford
Yeah, hey,
David Papp
I was just gonna go ahead and disconnect in the industry. And we know that Ravi noticed that all the time, when we're talking to people where they're purely finance, they see the numbers, but they don't understand what the numbers mean. And they don't understand how to work for it. They just they see a bottom line, they see expenses and revenue racv and I get it, we can talk to the operators at their level, feel their pain, help them with migrations help them with growth, we can even coach people before we acquire them on what we're looking for, and how to make their company their package ready for us to acquire them. So we're willing to mentor and coach people along the way as well, if the deal doesn't make sense now, it might make sense in 12 months from now. Yeah,
Harry Brelsford
yeah. Hi, boys voice felt that. Yeah. Hey, final question, lightning round. What are the actual services and solutions you provide to your partners?
Ravi R.
So I think the main service solution right now is like insurance software purchasing aggregating, hardware aggregating. I'll give you a good linear example of that. You know, like, we're like a masterpact eight MSB And then all our msps underneath that. So yeah, group that up, we all get a better discount. So what's coming down the pipe is a lot though from accounting back end, which everybody hates. So that's something that we're working on master cyber security services and insurance because my belief is that three years from now, if you're like a 29, MSP, you're not gonna be able to get insurance. Because insurance companies, if you look in the US, they're walking away right now. So what's happening?
Harry Brelsford
Yeah, in fact, that's a, I'm gonna write that down, Ravi, because later today, I'm going to record my q3 report, and I was gonna touch on m&a, but the insurance thing your spot, thank you for helping me pick a topic for my keywords.
David Papp
There's also a couple other areas I'd like to touch on, I think where we also provide value is unified tool stack. So a lot of our operators were noticing that they're, they're missing out on what Ravi has pointed out on the cybersecurity side and they have some there's some things that they need to put in place. But let's face it, a lot of people are stuck in their box, they only can operate there, there being a lot of cases, they might be reactive, instead of proactive, we can help them with that we can help standardize and stuff. And then the other element that's going to be massive is the HR component. Yeah, what I mean by that is, we're talking about skill sets matrix across the companies recognizing if there's a deficiency for something like a CIO position, or somebody or CIO or CSO amongst the companies, and then maybe we go and hire somebody at a head office level and, and rent the person out, you know, to the partners, you know, as an example, or make them aware, or maybe somebody is getting burnt out or doesn't fit within one of our partner network companies. And we want to slide them across to another opportunity elsewhere, because they got a great skill set, or you know, that kind of stuff for education, you know, all of that stuff. Like we're gonna have a lot of fun with this.
Harry Brelsford
Yeah, yeah. Yeah. Final thoughts. Ravi, do you have any final thoughts? I have. I have one more comment. And we'll take us out.
Ravi R.
I think the whole point just to wrap it all together is that we're a family and that end of the day, all the services and we solution provider to help our family that's, that's the core call.
Harry Brelsford
Yeah. And Dave, I'll end on this about having an HR function. I really like that because you guys have what we say carried the bag, right? You can get on the street and carry the bag. And what I've seen with private equity deals, is they bring in their own team, you know, here Here comes Who's your buddy Who's your pal Hey, go over there and be the CMO. And they don't know the MSP business right? You see it all the time.
David Papp
Totally everything true, so true.
Harry Brelsford
All right, gentlemen, we're good to talk after the first of the year, have a great fourth quarter. Sounds like it's gonna be a busy one. And thanks for talking to us.
Ravi and David
Anytime, love it, thanks, guys. Bye bye.