Channel veteran, Jeff Benedetti, joined Titan HQ to lead the North American sales and go-to-market efforts as they continue to expand their presence. TitanHQ is a web filtering, email filtering and email archiving SaaS business. Benedetti comes to Titan HQ with almost two decades of successful sales and go-to-market leadership experience in security and technology markets.
Harry Brelsford of SMB Nation sits down with Jeff Benedetti to discuss his new role, and excitement to continue helping Titan HQ build long-term growth as the IT security provider of choice for MSPs.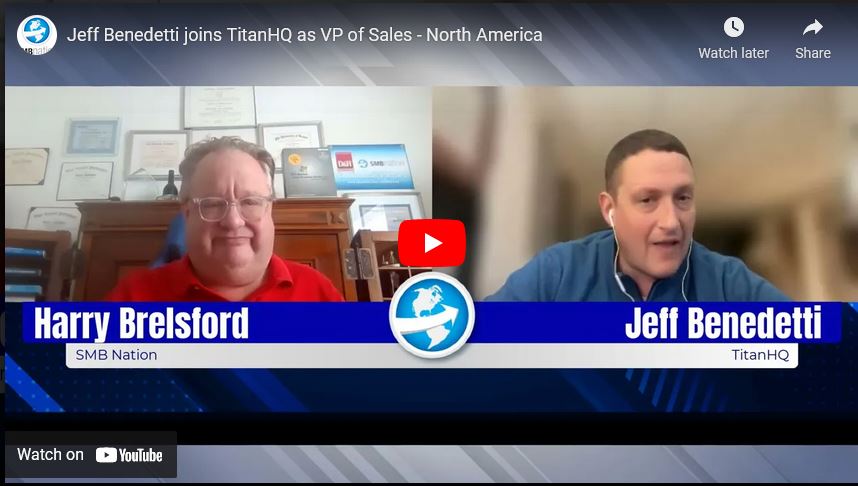 Video Transcription
Harry Brelsford
Hey nation nation, I am with Jeff Benedetti, a Titan in the MSP community from a couple of well known players. Hey, Jeff, what's up? You got news, and therefore, first of all, welcome and what's news?
Jeff Benedetti
Hey, Harry, thanks so much for having me on. It's great to be here today. Um, yeah, you know, we've been busy. It's been a busy start to the year I actually just started a new role with TitanHQ, an Irish based cybersecurity company, here in the US. So, VP of North American sales, headed up our go to market efforts, stateside.
Harry Brelsford
And I'm assuming this is a channel play. You're known in the channel. So this would be working with MSPs?
Jeff Benedetti
Yeah, for sure. So TitanHQ has been in business for some time now. And they have a strong channel presence. And really, my goal is to only enhance that improve that and, you know, enable our partners to deliver cybersecurity user services along with help them grow with a robust partner program.
Harry Brelsford
Yeah, absolutely. So what what's the secret sauce? What does Titan HQ do?
Jeff Benedetti
Yeah, I mean, the way so What really excited me about when I met Ronan and Connor, Brian and Dryden, the executive team at TitanHQ is first and foremost, an amazing group of people. And for me, that's extremely important. You have to spend a lot of time with the people you work with. So really excited about the I have the opportunity to work with them. The other piece was the addressable market. Titan HQ has multiple products and more on the horizon. And the addressable market is massive, we are really at the core of platform for user security. So an IT professional managed service provider, has the ability to come to Titan HQ to protect email, protect, business, email compromise, web filtering, encryption, email archiving, and once again, more on the horizon, which I really think is going to bring everything together for our partners and then their customers.
Harry Brelsford
So let me get this straight. You're you're in this new role. Are you bringing Titan HQ to the US? are you entering this market? Or have they been here?
Jeff Benedetti
Oh, great question. We have 1000s of partners, and a lot of them are in the United States of America and Canada. So yeah, well established market. And my goal is, you know, we're here in the US. So you're gonna have a team much closer in market. But more importantly, we're trying to help really the goal is to enable our partners to grow and to protect their users and optimize their business. But we do to answer your question, in short, Harry, were established abroad and here in the US. Yeah. And will
Harry Brelsford
we see you or your staff at some of the well known shows in our space seen the I mean, I can go on and on, but we
Jeff Benedetti
all know Yeah, yeah. Do you like events?
Harry Brelsford
Well,
Jeff Benedetti
I love events. And I definitely miss not only the travel, working from home, but also to seeing a lot of familiar faces. And you know, seeing people that I've grown relationships without in the channel. And it's really amazing to see how the MSP market in the MSP channel has evolved since I started working with MSPs. Earlier on in my career. I'm just like the role, like, how businesses are more focused on serving the market. And you know, you'll definitely see me out there and I hope to see you as well here.
Harry Brelsford
All right. Thanks, Jeff. Thanks for briefing us. Congratulations.
Jeff Benedetti
Thank you so much. Thank you so much. It's really exciting times and I'm on LinkedIn, very active there. So please, anyone listening today, feel free to reach out love to have a conversation about what's going on in your business and just learned a little bit more. So thanks again, Harry. I appreciate it. All right. Cheers.