John Maddison, Fortinet Senior Vice President of Products and Solutions

Fortinet's UTM solutions have been positioned in the leader's quadrant of Gartner's annual Magic Quadrant for Unified Threat Management for the 8th time in a row.
Fortinet has maintained its position as the leader in this market by delivering the broadest, most powerful, and highly-automated UTM security solution available, designed to protect all points in the network – from the IoT to the cloud,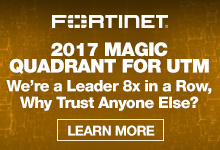 physical and virtual networks, and wired and wireless environments with a wide range of powerful security and networking tools.
We believe your customers should never have to choose between performance and protection. Which is why Fortinet's UTM solution consistently provides the best price to performance ratio in the industry. Our UTM devices are built using our patented series of security processors, and by offloading CPU-intensive security inspection and decryption functions to specialized silicon, our latest SOC3 (System on a Chip) processor is able to provide the most cost-effective, high-performance solution on the market.

The Leading Solution for Small to Medium Businesses and Distributed Enterprises

The Fortinet UTM solution enables you to protect your customers across the entire threat spectrum with integrated high performance next generation firewalls, web and email filtering, data loss prevention, and more. And unlike others in this market, Fortinet's UTM solutions also enable you to address networking needs with extensive routing, switching, access control, Wi-Fi, LAN, and WAN capabilities.

These capabilities are all administered through FortiManager's unified, single-pane-of-glass management console. It automates the provisioning and management of devices, centralizes policy distribution and orchestration, and helps maintain regulatory compliance to reduce operational burdens, so you can operate efficiently while providing superior service to your customers.

Learn more about our SMB security solutions on www.fortinet.com. If you're interested in going to market with the industry leader, become a partner today!