#1: You're not using the majority of your current available software solutions
Many MSPs are unable to fully make use of the software solutions they have available, often because there are too many moving parts, with multiple steps to take for each feature.
The NinjaRMM solution requires zero training and has a simplified and intuitive UI. Many features, including integrated searches and remediation, have one-click functionality.
#2: High Operations Costs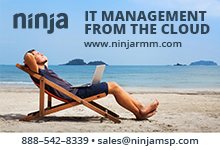 NinjaRMM provides one-click remediation functionality. This allows you to quickly and efficiently restore and delete anti-virus threats, accept or approve patches on demand, and reset alerts on demand.
#3: High Entry Costs
High costs of entry are difficult to absorb. NinjaRMM is available at a competitive, low-cost of entry and the zero to minimal training requirements further save on entry costs are your IT techs can quickly focus on your customers and not be consumed with learning the ins and outs of another complex platform.
#4: Operations are not streamlined
As MSPs grow and increase their customer base, it is easy for operations to get more inefficient. NinjaRMM has a policy editor function that allows you to centralize and automate your networked devices.
#5: You have received ZERO response from Support
One of the most frustrating things about navigating a new platform is being unable to get assistance when needed. Ninja believes in community development and consistently solicits customer feedback. With Ninja, you receive free onboarding, training and support.
#6: Your favorite vendors are not available or integrated
Ninja has strategically partnered with many of the best screen share, backup, antivirus and PSA's in the market.
If these signs are all too familiar, contact us now to see how a switch to Ninja would benefit you.