Good day again, and welcome to today's coverage of the goings-on at the Parallels Summit 2014! I was up bright and early again
to attend today's keynotes, which spoke directly to the Service Provider (IT Pro) role in the changing cloud industry.
I have already discussed the growing presence of the Cloud, not only on the tech side, but also for Main Street SMBs, like florists, plumbers, manufacturers, etc., so let's dig into the good stuff! I attended three keynote presentations this morning, the first of which was another check-in from Parallels CEO, Birger Steen (pictured), with new software version announcements, as well as the announcement of the company's top partners (I'll cover this news in a separate article).
Steen shared Parallels research, which showed that 98% of cloud service buyers are doing their own research, as opposed to taking word of mouth from colleagues. In addition, the study showed that 49% of services are coming directly from the ISVs, and that 21% of satisfied customers would not buy from their existing provider. Steen then shared his view on current customer buying trends:
Remember that satisfaction and loyalty may not keep customers, so be active in both reaching out to existing customers, and dedicate resources to customer acquisition.

Bundles have worked for partners, but the bundles must be relevant to the end-user's needs/vertical.

SMBs are not purchasing from marketplaces with the frequency they used to. In fact, less than 10% buy from marketplaces, and then come back to the provider to complain about the lack of integration.
These trends discussed by Steen lead me into the last keynote I saw today, which offered some tips for adapting to the changing technological and economical markets.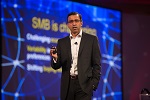 My third keynote today, and the second of which I will discuss in this article, was given by Abhijit Dubey (pictured), Partner at McKinsey and Company, a San Francisco-based Management Consulting firm. Dubey had a great presentation about how to conquer the Cloud. Spoiler alert: it isn't easy, but it's possible.
Dubey started his presentation with a few integral facts about the current state of the cloud, including the fact that there is a $400 billion opportunity in cloud apps and infrastructure, today. He then shared at 60% of US-based SMBs have at least one cloud application, and 28% have adopted up to 5. In addition, the SMB space is 40% of the current cloud opportunity. Here's where the challenges begin.
The SMB space, as many of you well know, is highly variable with many segments. Traditional channel reseller sales models do not fit well with this segment with the influx of cloud services, says Dubey. Other challenges include the following:
Economic: SMBs have a high acquisition cost, and most do not survive past the third year of business.

The current buying model is shifting, wherein customers are starting to buy directly from the ISVs

Competition is uncertain.
I want to touch on that last point for a moment. Dubey brought this to light for me this morning, and I found it a very interesting observation. He referred to the current cloud environment as a "battlefield," in which service providers are no longer sure if their partners are still friends, or if they've crossed over the line into competition. Also, with the cloud battlefield in a relatively young stage, as demand is just growing on the Main Street SMB sector, the future "winners" are still uncertain. He did, however, propose five strategies for service providers to stay in the game:
Segment: Know your target market segments and what they want, and create custom marketing materials and solutions just for them.

Aggregate: Have an anchor service of your own, and wrap other vendor apps around it as a relevant bundle for customers. (You become the service endpoint, and you provide one bill for all services).

Consumerize your Go to Market Strategy: Improve your online presence and offer free trials to entice customers to buy.

Rethink your current Channel model to match the changing buying models and use analytics to be proactive about helping customers purchase the next level of services as they grow.

Turbocharge your services: Customers will pay extra for in-depth service, and not all cloud is self-serve.
Overall, it was a great morning at this year's Parallels Summit, and I look forward to bringing you more news, tips and tricks!