I was able to meet with Open-Xchange CEO, Rafael Laguna (pictured) this afternoon at the OX booth in the Parallels Summit Exhibit Hall,
and it was a rather eye-opening experience. First of all, Laguna spoke to me about the history of his organization.
Laguna is one of the founding members of OX, which began as a company in its own right in 2005, but that it started as a smaller organization. He explained that their story was a little backwards, as they got the customer first, noted hosting company, 1&1, Inc., and then launched their new venture. Having 1&1 as the launch customer gave OX an edge, as they had to scale with 1&1's well-known growth.
Open-Xchange was originally started as a US Inc., but has most of its operations in Germany. Laguna then explained he and his fellow co-founders started with the idea that email is a major asset. He compared email to phone numbers, in that you can take your number with you to any carrier, but email is stuck. OX was also ahead of its time, in that all solutions were browser-based to begin with.
OX then evolved and developed its OX App Suite solution which gives customers, be they consumers or businesses, a customizable dashboard through which they can view their most important applications, as well as integrations from third-party app developers. Today, OX has reported 80 million sold seats in the year of 2013, with an expected rise to 150 million sold seats by 2014's close.
I asked Rafael Laguna about his company's connection to the reseller base, as we have heard that this role is drastically changing, and in some instances, is being outnumbered by the larger corporations. He replied that OX's first priority is to be a friend to the Channel, and said that it follows a more traditional reseller approach. In fact, OX only distributes via its partners, and does not sell directly to end-user customers. He told me that any reseller or application developer who wants to work with OX is welcome to do so. All resources for either submitting an app for integration with the App Suite, or for becoming a partner can be found at the company's Knowledge Base.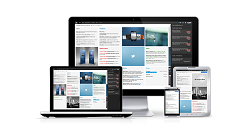 Next, Laguna took me on a tour of the App Suite, which I found to be very clean and intuitive. He mentioned that OX's work in the past with large companies has allowed it to bring the same clean and mature solution to its smaller clients. The most important feature of this browser-based solution, in my view, was the reactive design, which automatically formats the dashboard or application based on the device the user is on (see photo). For example, the email application was built of two columns on the laptop display, with one side for the author and subject of the message, and the other for the message text. One the mobile device, the user saw only the author and subject, and could click in to access the message.
Additional features include:
Ability to access and synch secondary and tertiary accounts from Google, Hotmail, AOL, etc. This also allows the user to move messages between the inboxes (and related folders) seamlessly.
Users may also send e-mail from any identity connected to the suite, and the style (layout) remains the same, even as data is stored on that mail provider's server.
Users can integrate their Facebook and LinkedIn contacts to the email application, which allows them access to any updated information from their contacts.
On the email application, users can view a very clean message history for each contact, as well as LinkedIn information (if they are connected).
All applications are linked, so users can access and edit photos, music, documents, etc. directly from the browser, and place them directly into an email. Any of these media items are then quickly synched and available on the users' laptops, mobile devices and local folders.
Document editors are richly featured, can support dynamic content (such as .gifs), and are compatible with Microsoft applications (but will not remove any Microsoft-specific features or formatting).
*Real-time collaboration: This was a big feature for me, particularly as I often work with remote colleagues at SMB Nation.

Users can access documents at the same time, which will place one user in a "read only" mode. This user can watch the edits being made in real-time, and can request the "edit hat," as it were, to either remove edits or make a few of their own.
Once the document has been edited, there's a full activity history for users to see, which lists the date, time, and author of each version.

Users can also share content privately from their drives, which keeps data ownership (photos, music, etc.) solely in their hands.
Laguna also let me know that OX is planning to integrate chat, voice and video in the near future, and he introduced me to one of OX's partners, Voiceworks. Their representative, Roland, gave me a tour of their current solution, which allows for real-time chat, voice and audio communications. A very neat feature of this solution was that there's no additional software or plugins required, it's all run via a browser and can even be accessed via an Android mobile device (Android v. 4.3 or higher).
I want to take a moment to thank Mr. Laguna for spending a bit of time with me to discuss Open-Xchange, and its plans for the future. I feel that they are definitely a company to watch in our segment of the IT Industry.