By now, most of us in running small or medium businesses know a little about the magic that makes certain websites appear at
the top of search engines when we type in terms such as "local shoe shops" Best dishwasher" or even "smartphone reviews" online?
And we know that getting to the top of these coveted search engine results pages (SERPs) is far more than a game of chance. But as a small business owner, do you know any of the tricks that will get you there?
Well let's look at the two main strategies for affecting your website's SERP ranking and different situations for employing both.
It is SEO and keywords that make the difference between being top of the engines or relegated to page 3. But as with most things in life, money makes the real difference. The top slots are reserved for companies that pay top dollar. These are paid searches. The others are ranked organically thanks to carefully SEO campaigns, clever use of key words and great word of mouth.
It is easy to tell the difference between paid and organic. You've probably noticed that the search results that appear at the top of the page or on the right-hand sidebar are often shaded, in bold or otherwise marked as different from the other results (Google recently started adding the word "Ad" in yellow beside the paid entries to make it even clearer).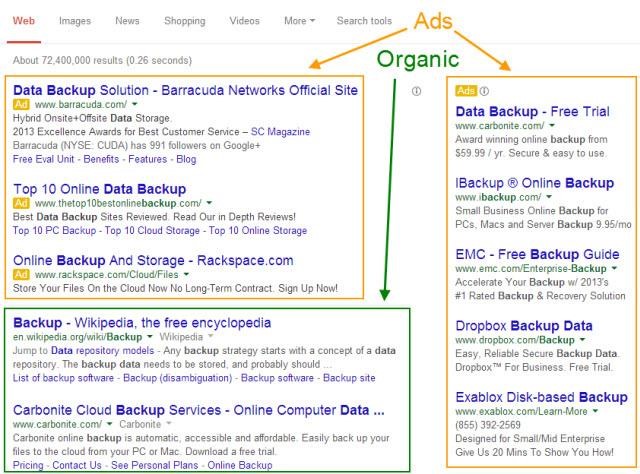 These search results have been paid for and, therefore, are "paid" or "sponsored" results. The entries below these are "organic," meaning that the business is truly a popular entry with high-quality search engine optimization (SEO) that matches the search you performed.
The highest organic results might better match your query but the paid ads will always appear at the top of the page, drawing attention, clicks and, in many cases, revenue.
But paid or organic, search results are vitally important to your business since 80% of website traffic is directed to your site via search engines. And they are especially important for small businesses as most people are seeking local goods and services online. But it's still the businesses that top the search that garner the most attention. If your business is stuck back on page 3 or 4 of the SERPs for your most important keywords, chances are, that your company is not being found at all, and business is probably suffering. As a small business owner you have to watch your bottom line, but is it worth paying for results?
Pay for high ranked search results?
The benefits of paid ads are that they appear at the top of the list, the first place that most searchers' eyes go. Some users don't even realize the paid results are ads since the font and style almost always match that of the unpaid results (ads that look like content are one aspect of "native ad" strategies that manipulate visitors into thinking they are looking at editorial material) and click without reservation.
Another advantage of paid results is that, while getting to the top of an organic search list might take months of work and SEO rankings, paid results reach the top of the page as soon as you pay for them.
Paid results, also sometimes called "pay per click" (PPC) advertising, can be tailored to reach exactly who you are trying to convert. You can choose to reach users in a certain region, income or age bracket, workers in a certain industry or people of a certain education level or marital status. Social media platforms can even show your ad only to people that play a certain sport or like a certain type of music!
If you have a certain type of customer profile, imagine how closely you can tailor your ads to reach the right audience!
The disadvantages of paid search results include, obviously, the cost and that people don't always trust content when they know it is an ad. And of course, your highly placed search results disappear from the top of the pages as soon as you stop paying for the ads.
The one case in which searchers are more likely to click on obvious paid results are when they are actively looking to buy something. Searches such as "buy curtains" or "order groceries" are called "high commercial intent" searches and garner double as many clicks on paid content as on organic results.
...or go organic?
By now you might be thinking that paid ads are the way to go. But wait. You haven't heard it all yet.
At least half of web searchers realize immediately that a result is a paid ad and avoid it entirely for that reason. Those searchers report placing more trust in organic ads and being more likely to click on them. Searchers feel that a business with high organic search results has a true foothold on the market and their finger on the pulse of the industry in question.
So how do you get in on the action? Raising your results in organic searches is done by search engine optimization (SEO), a complex system for positioning your site so that it will appear ever higher on the list of search results for certain keywords that your potential customers are searching for.
The advantages of placing high in organic search results are that, once you are near the top of the list, you can be there for a while if your services are good and word-of-mouth brings more searchers and it is possible to do it cheaply if you're willing to put the time in. Being tech-savvy also helps as SEO is often a frustrating process and seeing results can take some time.
This is why it is often worth putting your SEO, paid or organic in the hands of experts. Companies such as Internet Presence Management specialists, Pronto Marketing, can use their Adwords management skills to put your business front and center on search engines with near instant results or use their skills to build up your internet presence. They know a blend of both strategies gives you the best chance at success.
Organic results lend your business a voice of authority and evergreen search results while paid ads result in immediate top-of-page placement and higher actual sales when consumers are looking to make a purchase in the moment.
At Pronto, we can tailor a search results package that's right for your business. We handle SEO, PPC and targeted keywords while making sure that your business appears on Page 1 of search results. Let us deliver results that will make it easy for customers to find you. We have affordable packages to maximize your business and make you shine online. Contact us today.