It's conference time for D&H Distributing in the city of chocolate, Hershey, Pa., as the company prepares for the D&H Mid-Atlantic Summer Technology Show held
June 4, 2015.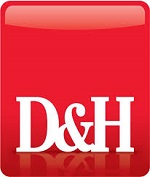 Two of the six educational seminars at the show will focus on SMBs: Cisco will present "Cisco Mega Trends and How They Affect SMB" at 12 p.m., and Dell will present "Dell SMB: Made for Business, Made for You" at 3:15 p.m.
"We're proud of the depth of information we've been able to deliver at our trade venues over the years. The content and the special exhibits we've assembled with our partners has grown, creating a value proposition that is difficult to find in a similar one-day forum, especially without any kind of registration fee," said Mary Campbell, vice president of marketing at D&H Distributing. "We regard this as an investment in our customers' development, and as we face issues like the impending server end-of-service date, our trade shows continue to offer crucial tools and opportunities."
D&H said it expects close to 1,000 resellers to attend the show, with 100 manufacturer partners providing exhibits at the event.
Registration begins at 11:30 a.m., seminars start at 12 p.m., the exhibit floor opens at 3 p.m., and the show closes at 8:30 p.m. Registration online is available here.