Coming in ahead of schedule, Microsoft announced general availability (GA) for its highly-anticipated Windows 10 desktop operating system as of July 29, 2015. This is
significant, as I had heard Windows 10 was going to release-to-manufacturing (RTM) in July 2015 and that suggested that GA would have been late August or early September.
Here is the flaw in my old-school RTM thinking: In an agile cloud-based world, there is NO manufacturing to worry about. The product will be downloadable for installation on desktops, laptops and tablets July 29. I'm still checking on when Windows Phones will receive Windows 10.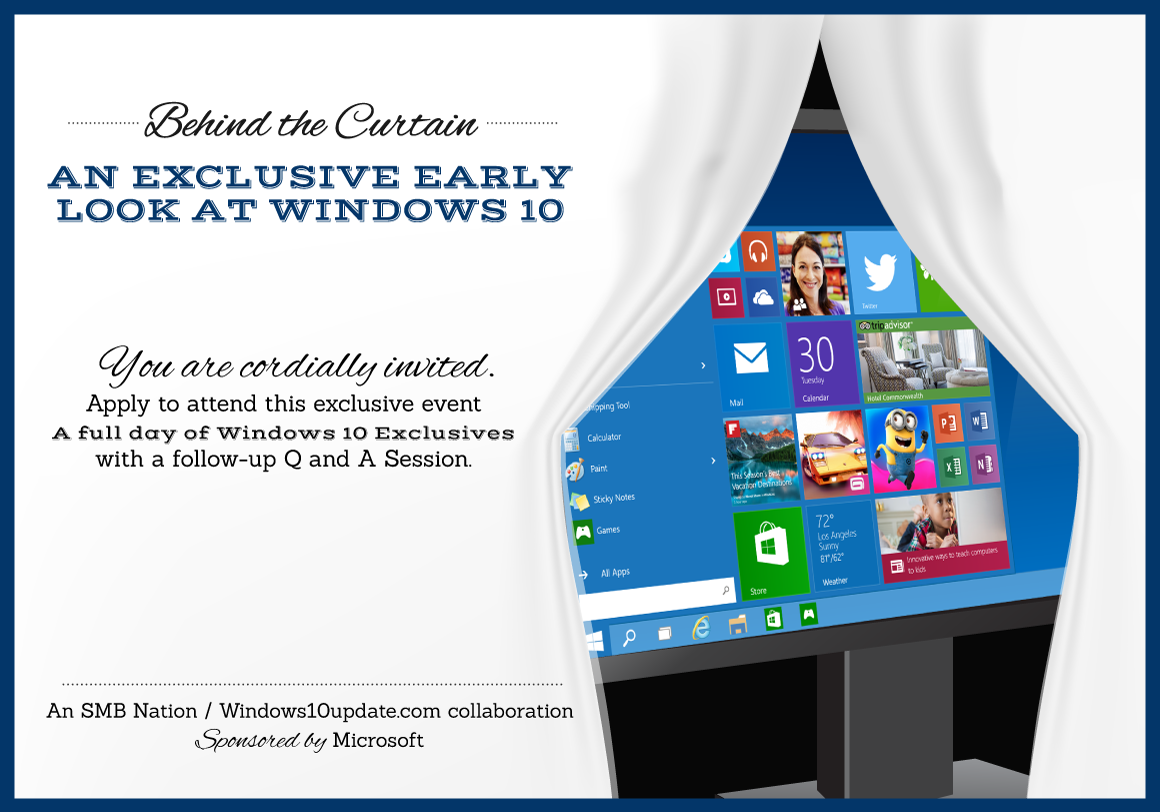 With retail SKUs gone gone gone, there isn't the whole MRP-based manufacturing cycle to contend with (think about packaging, etc.). July 29 is it for consumers. I've been running Windows 10 on a gest machine and it's a #win, in that it's not Windows 8 LOL. Much more context surrounds Windows 10 that I can't go into know, but interested readers can attend one of five independent Windows 10 pilot workshops in June produced by SMB Nation with Onuora Amobi (Windows 10 Update editor) as the lead presenter and subject matter expert. Early today, Onuora broke the news here: http://www.windows10update.com/2015/06/windows-10-will-be-generally-available-on-july-29th/
Learn more and sign up for the tour here: http://o365nation.com/launched-independent-windows-10-preview-tour-set-to-visit-5-u-s-cities-this-june/
Finally, the small matter of OEMs and devices remains. I'm hearing that it will be 4Q before OEMs such as Lenovo ship devices with Windows 10. That's fine, as it's the holiday shopping season and past the summer vacation season. Windows 10 will miss the back to school surges in August and September, but that's OK in the grand scheme of things. One other positive is that our 13th annual fall conference October 1-3 at Microsoft Redmond will feature Windows 10 as a pillar conversation and should offer OEM device bars available for attendees to play with.
PS – the official Microsoft announcement about Windows 10 and its general availability July 29 can be found here: https://blogs.windows.com/bloggingwindows/2015/06/01/hello-world-windows-10-available-on-july-29/