Totally appreciate the recognition from Channel Pro SMB in the recent 20/20 SMB Visionary Awards in its May 2015 magazine issue. There are a couple
thoughts I'd like to share in being honored as a Visionary Channel Player.
Freeman got it right
In this era of anonymous lead generation and other spreadsheet tactics, it's refreshing to see the deeply personal touch and research applied by Rich Freeman, the writer to get it right. Such lists are hard to construct as you have to wade through the scum bags, sleazy players and narcissists found in any industry. I'd offer 80 percent of the 20 Visionary Channel Players are ethically legit and for that, Freeman has my praise. In baseball, he'd be the all-time hitter with that average. Yes – ethics and good citizenship are essential success factors in my book of business. This list a capable representation of that.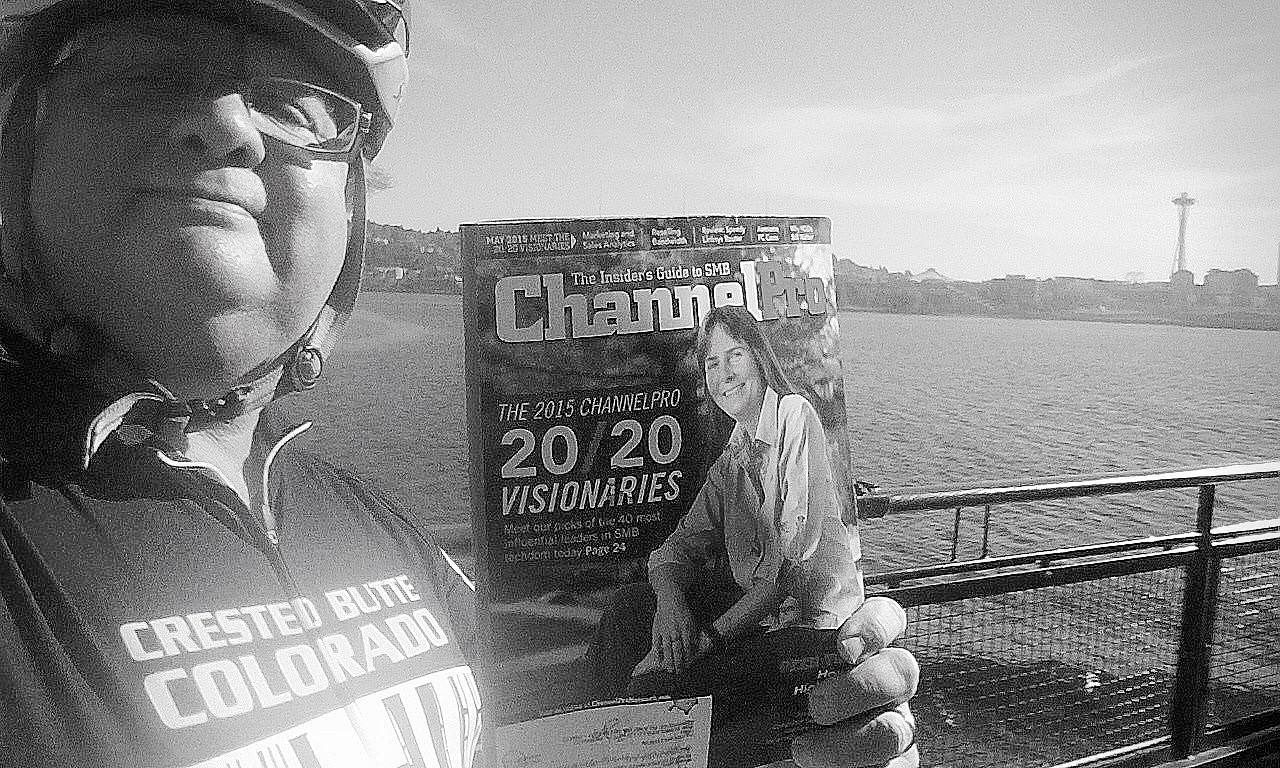 The Meek shall share…
The second category of 20 Visionary Channel Pros presents the real power players in my eyes. These are people who get sh-- done, as one of my favorite Microsoft executives in the operations area likes to say! These aren't necessarily the public figures on the list of 20 Visionary Channel Players, the list I'm included on. Rather, these are the work horses. More importantly – Freeman's batting average goes up to 95 percent on this list as I can see only one bad actor. Shout outs to the SBS Diva, Microsoft Princess and especially cover girl Amy Babinchak.
Responsibilities
Success brings enormous responsibilities. These awardees, I'm assuming, take their leadership roles seriously and are typically here to help. Think of these power players as the hand in the window signs indicating a safe house (http://forums.bicycling.com/topic/do-you-remember-the-helping-hands-safety-program). It's something a lot of us grew up with!
The full list is shown below and you can review the entire article here.
Visionary Channel Players
Carolyn April: Senior Director, Industry Analysis, CompTIA Inc.
Scott Barlow: Vice President of Sales, Reflexion Networks Inc.
Arnie Bellini: CEO, ConnectWise
Tiffani Bova: Vice President and Distinguished Analyst, Gartner Inc.
Harry Brelsford: CEO, SMB Nation Inc.
Jason Bystrak: Executive Director, Americas, Ingram Micro Cloud, Ingram Micro Inc.
Len DiCostanzo: Senior Vice President of Community and Business Development, Autotask Corp.
Ted Hulsy: Vice President of Marketing, eFolder Inc.
Jerry Koutavas: President, The ASCII Group Inc.
Jay McBain: Co-Founder and Chief Marketing Officer, ChannelEyes Corp.
Austin McChord: Founder and CEO, Datto Inc.
Karl Palachuk: Owner, Small Biz Thoughts
Gary Pica: President, TruMethods LLC
Joe Quaglia: President, Americas, Tech Data Corp.
Erick Simpson: Vice President, SPC International Inc.
Dave Sobel: Director of Partner Community, MAXfocus
Arlin Sorensen: CEO and Founder, Heartland Companies
Todd Swank: Senior Director of Product Marketing, Equus Computer Systems Inc.
Ken Thoreson: President, Acumen Management Group Ltd.
Larry Walsh: CEO and Chief Analyst, The 2112 Group
Visionary Channel Pros
Luis Alvarez: President and CEO, Alvarez Technology Group Inc.
Amy Babinchak: Owner, Harbor Computer Services and Third Tier
Steven Banks: President, Banks Consulting Northwest Inc.
Susan Bradley: Partner, TSH&B Inc.
Michael Cocanower: President, itSynergy
Ed Correia: Founder and CEO, Sagacent Technologies Inc.
Melanie Gass: President, CenterPoint Solution LLC
Joe Gleinser: Founder and President, GCS Technologies Inc.
Stephen Hall: CEO, District Computers
Michael Klein: President, Computer Directions Inc.
Ro Kolakowski: CEO, Founder, Sales and Marketing Director, 6th Street Consulting
Carl Mazzanti: Founder and CEO, eMazzanti Technologies
Robert Nitrio: CEO, Ranvest Associates
Kevin Royalty: Managing Partner, Total Care Computer Consulting LLC
Steven Rutkovitz: President, Choice Technologies Inc.
David Sagraves: Executive Vice President and Partner, Claris Networks LLC
Dave Seibert: CIO, IT Innovators Inc.
MJ Shoer: President and Virtual Chief Technology Officer, Jenaly Technology Group Inc.
Vince Tinnirello: CEO, Anchor Network Solutions Inc.
Jamison West: CEO, Arterian Inc.
I end on a lighter note. Receiving this award, always a pleasure and another logo to paste on the SMB Nation site, prevents me from having to buy my own beer like a single Dad on Father's Day LOL! :)