As the new year starts many businesses look to improve revenue streams, change business models, and improve their business practices. In many ways 2022 will follow these trends with MSP's looking at the channel and saying how am I going to grow my business, get involved, and or change the way I am doing things. With this there's going to be a lot of acquisitions as normal.
Although, this year will look like business as usual in many aspects, there is some hype around metaverses, and how to bring it into MSP businesses as an offering, how to make money with it, and how to sell it. We meet up with Phelim Rowe as he shares his thoughts on 2022.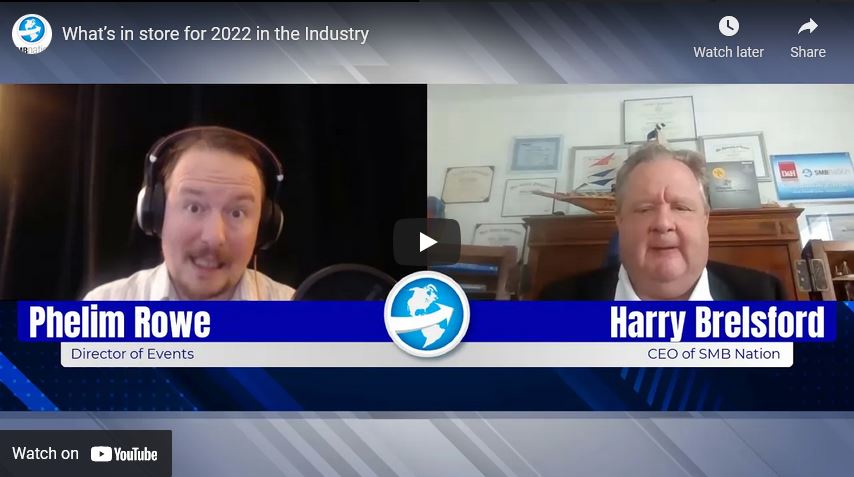 Video Transcription
Harry Brelsford
Hey nation nation back with Phelim Rowe across the pond. How're you doing?
Phelim Rowe
Doing? Well, all the borders have opened. It's all good news
Harry Brelsford
oh the border sir opens. Okay, that is that's not only good news. That's new news to me. So, alright man.
Phelim Rowe
Well, yeah, things things across the pond have opened up for a long time. But it was on the eighth of November that we were allowed to come over to the states. So get ready, we're coming over.
Harry Brelsford
Fair enough. Fair enough. We're right on top of 2022. But boy, howdy 2021 was the year that was went way too fast for me still can't figure that out. High level thoughts on 2022 for the industry, your business model, talk to me just just take over the microphones.
Phelim Rowe
I think there's gonna be two angles. One is the reality and then there's going to be the hype. The reality is that, you know, you're going to get a lot of MSP players who are looking for more revenue streams. As always, there's going to be a lot of MSS players who are going to look at the channel and say, let's, you know, get involved and you know, through MSB players, and there's going to be a lot of acquisitions as normal. But the hype, I think this is where it's very interesting. Whilst I don't think any money is going to be made from the metaverse right now, I think it's going to cause a lot of channel players to start to think, what do I have to do to accept this web 3.0? Environment? How can I make money out of it? And I think there's gonna be a lot of people trying to wonder what the metaverse is, and is not. So so maybe maybe that's a bit fanciful. But I think the reality is gonna be very dull. But the problem is, dove doesn't sell. So they're going to be dreaming up loads of weird and wonderful ways of helping people with web three point out.
Harry Brelsford
Okay, and then how about your event model? You, Man, I gotta hand it to you. You're consistent. You're consistent. You're consistent. I think you did one or two physical events this past year one in Dubai, if I got that, right. Talk to what, what are you doing in 2022.
Phelim Rowe
So 2022, I think I'll have two, three, maybe four complexes, which, you know, it's a staple conference with an actual exhibition. But then any other physical events, I think they're going to have to be experiential. So they're gonna have to, you know, provide some sort of value, maybe a comedy night, maybe music, maybe a venue, maybe a site visit, because traveling all that way just to sit and listen to lectures ion now, I think that the content side can still be delivered online, people will go drop in drop out, there is very good online networking to be had. There are very poorly executed webinars out there that is, you know, giving the industry a bad a bad name. But the core tenant is make people feel welcome online. And they'll come back. And that's what's happened with our events. So I'll do some physical events, but there'll be experiential based. And the online events will be very, very content and question driven. You go to a wedding? What is what is what does the person say? We are gathered here today? Because right, and I think that's what a lot of events online are missing. They go Welcome to the MSP event. Yeah, we need to because why are we here?
Harry Brelsford
Yeah, and what I'm seeing, you know, I'm a startup guy now and a vertical that I'm aggressively pursuing what we're seeing and we just went through a couple of live events in that vertical and you're absolutely right about the your analogy with the wedding is you know, there's a bad joke out there that a lot of people don't even go to the wedding they go to the party. Right and, and we sound a little bit of that in this vertical a couple of conferences recently now they maybe go to the lecture in the Expo Hall because they want to learn about a rapidly growing vertical but both of them had evening events that were really good, you know, sort of fundraiser with the Blues Brothers knockoff band, and that kind of thing. And so that that's two works, you know, that that still works to have the fun tied to the event. And it's a festival I mean, we you know, people really enjoy it. Oh, wow. Another one my friend and yours. A Cronus. Recently had their annual event down in Miami in October. In phelim, you may recall they had that darn 6am soccer game again down on the lawn. I didn't make it. But the point is, they had it was a festival type settings if that makes sense.
Phelim Rowe
It it wasn't it and I got a I got an autograph from the football last year that was giving those lessons I didn't take the lessons but I did enjoy the breakfast and the breakfast water view from the breakfast. You know Fontainebleau, Miami what a venue. So So I think that type of event Yes, I think more people go to them but traveling three hours in a plane to I don't know Bismarck to do some kind of Northern States Conference where you're eating cold turkey sandwiches? No.
Harry Brelsford
All right, my friend. Hey, good to chat with you. We'll catch you next time.
Phelim Rowe
See you soon.