Chaos creates opportunity. The current COVID-19 matter is an epic moment in both our personal lives and professional careers that will reset how "work" works.

In preparing this analysis – I have researched how the community of small and medium businesses (SMB), independent software vendors (ISV) and original equipment manufacturers (OEM) plus managed services providers (MSP) who are rapidly responding to, by analogy, a wartime need.
It's the sub-story of the day as millions of workers are relegated to working from home for at least the near term and perhaps longer.
The following quote from an SMB Nation member sums up the opportunity momentum as he expresses the overwhelming workload placed on his girlfriend who works in IT infrastructure at a large railroad transportation company: "Charlotte is helping her team process thousands of VPN access requests for employees all working from home. They have a dev team working on automating it." Loosely translated – there will be traditional MSP remote setup work in the SMB space *but* also in the contingent labor/project offerings supporting ENTERPRISES trying to rapidly mobilize secure remote worker scenarios. I also validated this enterprise-level opportunity by speaking with an employee in Anchorage Alaska at the Ted Stevens International Airport where it was reported the State of Alaska can't keep up with employee requests to work from home.
36-month Run
Why do I call this the 36-month opportunity? I met with a well-known former CEO in the SMB MSP space from a large IT franchising entity. When comparing notes and realistically viewing the impact of COVID-19 on workplace behavior, it became apparent that this is a major shift forever in how "work" works. And that transformation will take a few years to complete – think of how long upgrade cycles (e.g. Windows XP) took.
There will be an initial surge for the early adapters (always), then a deceleration leading to a long tail. It all spells long-term technology opportunities. I'm not suggesting our SMB Nation community is capitalizing on misery – that's not how we are wired. Rather I'd offer that we want and need to get back to what we do best (especially in the early Small Business Server (SBS) days) - helping people.
Here are a few notable industry offers that crossed my desk that I wanted to highlight.
Atera – This agile RMM/PSA ISV has released guidance: "How to Manage Your MSP Business During the Coronavirus Pandemic – A Step-by-Step Guide for IT Services to be a Solid Foundation for Your Clients During Crisis Mode. " Atera also reports it added a new exiting tool to our suit "Customer Remote Access" - HERE. - a tool to help MSP's and IT pros to connect their clients to their work computer with a click of a button (via Splashtop integration).
Acronis - it is making Acronis Cyber Files Cloud, the company's secure, enterprise-grade file sync and share solution, free to all service providers through July 31, 2020, so they can help their clients quickly transition to working remotely while keeping vital data secure.
SolarWinds - SolarWinds MSP is working to support its partners and help them manage and secure their IT environments as many are asked to work from home. As part of this initiative, SolarWinds is licensing its Take Control Plus, our premier standalone remote support solution, free of charge for 90 days, if partners sign up before June 30, 2020. For a limited time, Take Control Plus licenses also come with 25 additional end-user accounts for partners to extend to employees and clients.
PC Matic – Join our online community meeting with Corey Munson this coming Wednesday, March 25th at Noon Pacific to discover it's SMB-focused no cost support for MSPs seeking to do good! Discover more HERE.
Bigger Brains – The esteemed Chip Reaves and his team are making its "Microsoft Teams Essentials" course available for free on YouTube during the pandemic. This is the shorter Microsoft Teams course, covering the basics of using Teams in just 20 minutes, then covering best practices in three additional lessons. Learn more HERE.
Eating our own Llama feed!
We are community and I'm happy to share one step I'm taking to help, not hurt fellow community members. As many of you know – I moved to a 40-acre Llama Ranch in Austin, TX for the Winter after the sudden death of my wife from a 78-day cancer battle. I needed to do a geographic with all due respect. It turns out that I've lucked into a remote worker self-isolation situation even before the COVID-19 pandemic. I'm washing my hands and the Llamas are staying six feet away for social distancing purposes. The Llamas even gave me a box of 100 (count) Blue Nitrile Gloves used by Health Care workers (see Figure #1). My Llama's love me!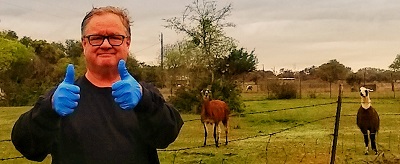 Figure #1: The Llama's surprise gift of health care gloves to me is very welcome here in Dripping Springs, Texas.
Jennifer Hallmark of SMB Nation is safely working out of her home in Washington State.
Stay safe my friends and as the Llama's told me this morning – Keep your CHIN UP!