Right here right now the new Acronis Cyber Platform was announced today from a resurgent Acronis. The platform solution is opening Application Programming Interfaces (API) plus a Software Development Kits (SDK) to developers and other stakeholders.
I caught up with a SMB Nation friend of the family and Small Business Server (SBS) fan William Toll, who recently joined as the Acronis Cyber Platform Evangelist.
Before the good stuff – I wanted to weave this into our MSP to ISV coverage in Spring 2019. This is a slightly differently twist in that the ISV (Acronis) is reaching back to MSPs and other partners with a new attitude, for lack of a better word. Read on.
"Data is precious – is the new oil – is pretty valuable. We need to recognize the following characteristics of data. One - data is growing. Two – data is coming from more sources than ever before. Three – there are more places to put data than ever before. Four - companies are using data in all sorts of new ways never dreamed of before." Toll said.
Taking the four points above, Toll continued. "This is the genesis of what Acronis is doing. We have re-architected and re-engineered our platform over the past few years (since 2015). For example, the new platform has allowed the introduction of new services including a blockchain-based digital notary service. Double-clicking on the Blockchain thingy, we can insure what data "is" is what data "was" and was never manipulated."
Fact is, along the way in updating the platform, Acronis worked 1:1 with leading channel companies such as ConnectWise (26,000 partners). Now stakeholders have access to a deep integration with Acronis (for example, ticketing is integrated into ConnectWise).
"We believe that by opening our APIs and making our SDKs available to developers, ISVs, OEMs, IoT device makers and others so they can more deeply integrate cyber security and protection solutions. Examples about what could be done on a platform – say an embedded backup solution to run test beds and sandboxes. This is a chance for service providers to expand offerings and differentiate themselves." Shared Toll.
"Likewise – many MSPs encounter new storage devices when they take on a new client. Seems like everyday there is a new storage vendor on the market and each one is just a little bit different. But there is no backup provider that can support all of them. With our open APIs and SDK, developers can now easily attach those data stores to locations such as private cloud or public cloud. We've done this for Azure, AWS, Google Cloud and even the Acronis data cloud. Don't forget SAN and NAS." Toll said.
Then there is the fact the Acronis Cyber Platform helps with compliance, regulatory matters and beyond. Specifically, it's about managing the data and transforming the data. For example, the Acronis Cyber Platform brings a custom encryption scheme. "Our stakeholders can use our Acronis Cyber Platform to develop unique data governance requirements and more." Toll added.
Acronis is trying to rebrand itself as cyber protection – way beyond its backup branding. Why? "You can't have one without the other. You can't have backup without cyber protection and vice versa." Toll said.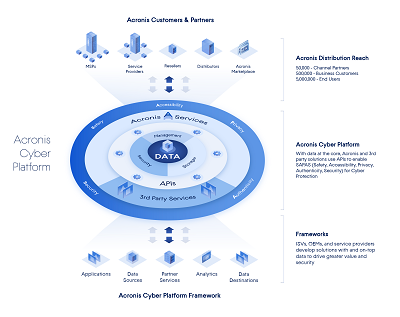 Figure 1: Data is the center of the world with Acronis new Acronis Cyber Platform.
To level set – a refocus on what we do with data is timely to put the Acronis conversation in context:
Data needs to be protected from loss

Data needs to be protected from theft

Data needs to be protected from manipulation….and that what the Acronis Notary based on Blockchain does
Bottom line: "Think how well an MSP can sleep at night knowing its client's data is not only being protected from loss but also protected from manipulation (including theft). This is exactly what Acronis is doing and we're putting data at the center. Let's help MSPs take advantage of all these new data sources, these new data destinations and leverage APIs and SDKs so that they can automate their business, decrease their costs, add more value to their customers and hopefully increase their market opportunity." Concluded Toll.