Our popular MSP Makeover contest has concluded and the winner is Dan Foote of DanTech in Alaska! Foote is a long-time managed services provider (MSP) and community member. He regularly attends community conferences
such as CompTIA and DattoCon. Foote is more than "geek" as he community participation expands beyond technology to include public policy.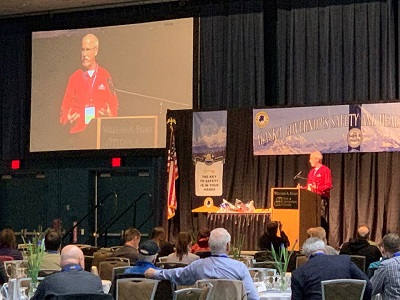 Figure #1: Foote is shown at a recent Alaska Governor's Safety & Health Conference.
"Harry, at the Alaska Governor's Safety & Health Conference, I was asked to introduce the keynote speaker: co-founder of CharacterStrong, Houston Kraft. Houston led the attendees through exercises designed to improve communications by putting kindness front & center to break down the barriers we build around ourselves. I'd highly recommend Houston to deliver to any crowd their message of culture transformation." Foote shared.
So what's next?
By completing the steps in our MSP Makeover contest, Foote wins a "Day of Harry" on site at his MSP practice. We're settling on mutually agreeable dates – it's looking like late June right after DattoCon in San Diego.
The "Day of Harry" includes a morning workshop on Finder, Minder, Grinder professional services delivery best practices. The afternoon is all about sales and I've offered to team with Foote to go make a sales call. And the evening is all about fun – I propose a salmon dinner!
Congrats Dan and thanks to everyone who played along. We'll do it again soon and a SPECIAL THANKS to SherWeb for underwriting this contest and making it all possible.