Talk about a blast from the past and the good old Windows Small Business Server (SBS) days! Michael Jenkin, Managing Director at Business Technology Partners Pty Ltd in Adelaide, Australia and long-time community leader (MVP, GITCA), has transformed into a security expert and a social media whiz.
In this podcast, we discuss virus protection and malware – part of his white hat effort to make information technology more secure in the small and medium business space (SMB). Jenkins is a managed services provider.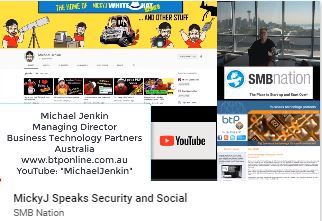 Listen HERE.
PS - Jenkin was a Microsoft Most Valuable Professional (MVP) back in the good old days.