We've struck a nerve in the SMB Nation community with our "How To" series and we're thankful for your overwhelming support! That said, we going to continue to stream out resources you can use to improve your lot in life as a managed services providers (MSP). And I got a secret – even experienced MSPs should revisit adding on this CompTIA certification.
Why? 'Cause lawyers, doctors, accountants and others engage in continuing education as professionals and so should you!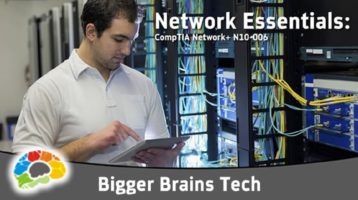 You can discover more about the Network Essentials course HERE. This is a geek-delicious learning opportunity.
What's the real story? I drafted behind lead dog Chip Reaves on this one. Reaves is the founder of Bigger Brains and past CEO of Computer Troubleshooters. Over the past few years, he's built a "real business" from the ground up and Bigger Brains is now an award-winning online training services provider. For myself – the effort resulted in my 20th publication in my career.
Details? Network Essentials covers everything you need to pass the CompTIA exam N10-006, along with practical real-world examples from actual MSP technicians. Networking Essentials is designed to give an experienced Level 1 tech a good foundation in networking technologies, both for real world benefits and to pass the newest CompTIA Network Plus certification (Exam N10-006).