Small business owners can agree—any kind of outage that disrupts operations and hurts revenue should be avoided at all costs.
Yet, 61% of small business owners say they don't have a formal disaster recovery (DR) plan in place. Without a plan for backup and disaster recovery, you're left with unanswered questions. What happens if a major storm hits and operations shut down?
What happens if the internet goes down across our business? And, what happens if a cyber attack causes system outages for our employees?
Unfortunately for small businesses with limited IT resources, building out a business continuity and disaster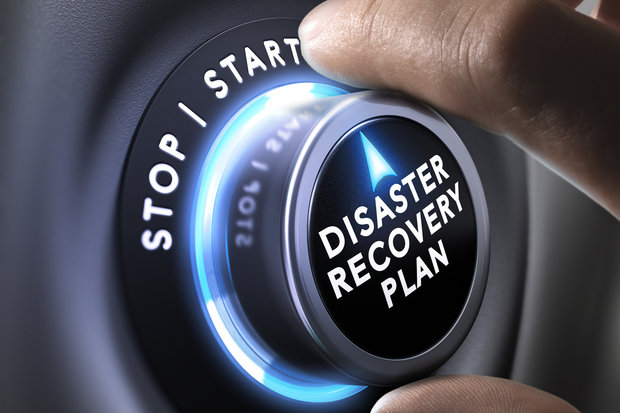 recovery strategy isn't often a high priority.
The good news is, you don't have to become an overnight IT expert to prevent the damages of unexpected downtime. Finding the right managed services provider for your business can alleviate downtime pressure.
When "What If?" Becomes "What Now?"
One of the main reasons that small business owners forego DR planning is an "it'll never happen to us" mindset. It's easy to brush off all of the "what if" questions around downtime if you think your business is immune to such problems.
If your business is located in an ideal climate, you might not have to worry about DR for your physical operations. However, every business needs to have continuity plans in place for online systems. It only takes one bad storm or one employee to click a malicious link for your business to experience hours (or even days) of downtime.
More and more, small business owners are forced to ask, "what now?" as a result of system outages.
According to a survey from Information Technology Intelligence Council (ITIC), 47% of small businesses say an hour of downtime can cost $100,000. The high costs of downtime have driven 81% of businesses to require 99.99% uptime from their systems. That's just 52 minutes of unplanned downtime for the whole year.
Backup and disaster recovery solutions ensure you stay within these parameters even when the internet goes down, the power goes out, or your mission-critical data becomes corrupted.
If you're like so many small business owners operating without a DR plan, downtime is only the short-term consequence. According to FEMA, 40% of businesses that experience disaster-related outages fail to reopen. Even when they do reopen, only about 30% are still in business two years later.
However, none of these facts can turn your small business IT resources into an enterprise-level operation. Working with a managed services provider (MSP), on the other hand, can do just that.
The Value of MSPs for Backup and Disaster Recovery
Consider what would happen if your business became the target of a cyber attack. One of your employees fall victim to human error, click on a malicious link, and suddenly you're dealing with a ransomware attack.
For many small business owners, the first instinct is to pay the ransom to release their sensitive data. However, paying attackers their demanded ransoms doesn't guarantee your data won't be deleted or sold. Instead, it's more important to have secure backups for your mission-critical systems so you can maintain operations despite a ransomware threat.
Working with a managed IT services provider that leverages cloud hosting and managed private cloud services ensures that your mission-critical data is never stored in one location. If there's a disaster at your headquarters, you'll not only have peace-of-mind from knowing your data is still secure and accessible, you'll have visibility into where it went due to the control cloud services offers to decide failover site location.
More importantly, working with an MSP makes backup and disaster recovery affordable for your business. Taking the do-it-yourself route can lead to costly on-site equipment and require a large, internal IT team to maintain.
Managed IT services providers deliver enterprise-level resources and act as a single point of content for all things IT. With a single bill, you get the backup and DR services necessary to keep your business up and running regardless of disruptions.
The key is to find an MSP that acts as a true partner—not just a vendor. You should feel safe to trust your mission-critical systems and data with a backup and DR provider. That's our goal; to be a single partner that possesses the all-encompassing services portfolio, infrastructure and IT consulting to offer true end-to-end IT management.
We take the burden of optimizing and managing complex IT environments off of our customers, which frees them to dedicate their time and energy on growth. Most importantly, working with NexusTek brings peace of mind from knowing you've partnered with an elite managed IT services provider that has the team and breadth of technology to support all of your business' operations.
Randy Nieves is Chief Technology Officer & SVP Product Management for NexusTek, an award-winning provider cloud, managed IT services and cyber security services. Recently named MSP of the Year, NexusTek helps thousands of small and medium-sized businesses across the country manage and optimize their respective IT environments for business continuity, productivity efficient operations.