Ryan Becker is in the busy season – the post-holiday geek gift deployment season. Lemme explain.

Becker, owner of Hi-Tek Computing in a Dallas, TX suburb, supported small and medium businesses (SMB) but equally exciting he support the home/residential market.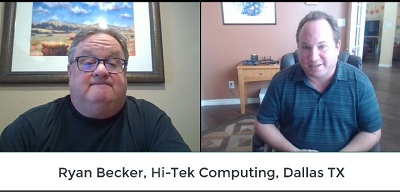 Figure 1: Ryan Becker in Dallas, TX
Watch the full interview HERE.
"There is natural overlap between SMB and the home market. For example, I run Hi-Tek Computing out of my home so I can related to my clients." Becker shared. So back to why Becker is busy! He'll happily take on your vexing home and residential gift configuration challenges. Need help building the gift drone to fly? Becker is your man!