Welcome back from summer everyone! It's time to focus on work. And it's time to focus on the future by attending select technology conferences. Participating in a conference is essential to your professional development and much more.


In today's Tech Tuesday segment on Northwest Digital News here, Kevin and Kylie discuss five conferences you should consider this Fall before the turkey gets the hot foot.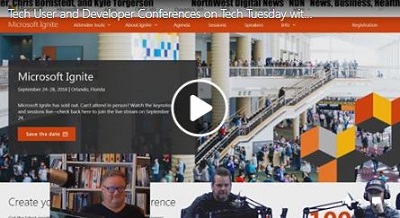 The first one is in two days (September 6, 2018) past the airing of this segment (the Tech Tuesday show was aired September 4, 2018) and it's in Boston. I'll be at each of the shows mentioned in this segment here and I look forward to seeing you at one or more. Each conference is distinct and unique.
We discuss:
Channel Pro SMB Forum
Microsoft Ignite
Salesforce Dreamforce
GeekWire Summit
Spiceworks Spiceworld

Thanks for viewing!