Flying just under the radar – Office Depot has brought to market a basic security solution, Recon Sentinel, to homes, home offices and small businesses. I've had the opportunity to review it and have a few "first look" observations.

1-2-3

It's no secret I consider my
childhood ADHD my secret success weapon as an entrepreneur. I am a classic IT pro who doesn't read the manual (aka "RTFM"). When I installed the Recon Sentinel at my home office, I was pleasantly surprised that only three steps were required. Loosely translated it was plug-in, power on and registered MAC-like address. With the Recon Sentinel, you receive first year free and are offered the opportunity to purchase future years of service – displaying the "as a service" paradigm sweeping the tech sector.
In speaking with "the man" behind Recon Sentinel, Greg Scasny (CTO – Cigent Technology), I offered compliments that "simple is hard." Scasny affirmed that it was an effort to keep the setup instructions as easy as 1-2-3.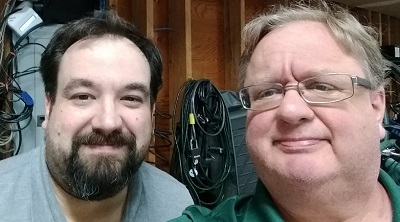 Figure 1: I installed the Recon Sentinel during my Cinco de Mayo "Friday Afternoon Club" with Eric Nathan, a bizdev dude at Frontier Communications.
Focus on One Attack Vector
Scasny took me under the hood of the Recon Sentinel. By the end, I understood that the device was addressing one attack vector; you still need additional security solutions such as A/V protection, malware protection and a firewall. The Recon Sentinel addresses a valid attack vector: unauthorized devices. Think of it as catching the bad guy tapping LAN A with a sniffer or other device. It works with both a directly connect device (e.g. CAT5 cable) or WiFi. Thanks to Sansy, my expectations were completely managed and hopefully yours as well.
Keeping with the simple themeology, the reporting is very basic, essentially reporting on one form of security activity.
Results
One fine day, our former tenant Amy returned to our site to pick up some postal mail. This occurred *after* I installed the Recon Sentinel in early May. Because Amy was previously authenticated on LAN A as a proper user, her iPhone attached to the network as you would expect. However, the Recon Sentinel discovered Amy's iPhone as an unauthorized device and sent me the warning as seen in Figure #2.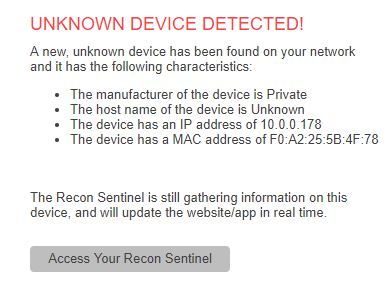 Figure 2: You cannot hide as an unauthorized device on my Recon Sentinel protected LAN.
Roadmap
Scasny shared that, of course, there will be additional functions and features added to the Recon Sentinel over time. Interestingly it might be in the form of different models. For example, the existing SKU is focused on homes, home offices and small businesses. An future mid-market and enterprise edition would be fortified up. And what is also interesting to me is the relationship with Office Depot, that carries the product on its line card. Office Depot is making an avert outreach to recruit MSP partners as part of its brand extension and transformation (e.g. it acquired CompuCom to enter the services business). Stay tuned!
Disclosure: Office Depot was kind enough to provide the Recon Sentinel cyber security device to me for free. Although the product was a gift, all opinions in this review remain my own and I was in no way influenced by the company.