I have a dog in this fight. In graduate school my MBA concentration was in project management from a construction industry vantage point (fortunately my skills easily transferred to IT and the rest is history). So when Smartsheet announced its first ever user conference, I marked it as a must do. It was time well spent and, yes, I'll yelp that I will repeat. Heck 1,000 attendees can't be wrong (note this was an IT Pro audience with 55% self-selecting as super users).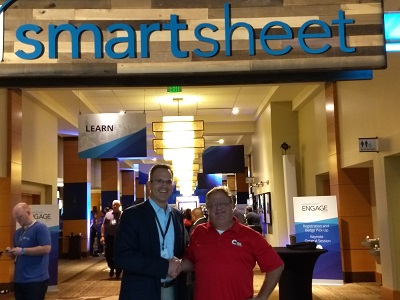 Fig 1: Hangin' with Smartsheet CEO Mark Mader at the September 2017 conference.
What is Smartsheet?
Historically I've framed up Smartsheet as online project management on steroids. Growing from a residential house (in Bellevue, WA) in 2005, Smartsheet currently has over 400-employees heading to 800+ within the next 12-months. Today Smartsheet is all about positioning itself as a SaaS application for collaboration and work management using an intuitive spreadsheet-like interface. As the name would imply, the product is a series of "smartsheets" based on the underlying project management paradigm to assign tasks, track project progress, manage calendars, share documents and manage other work. The underlying mission pillars for company transparency, practicality, effectiveness and accountability has resulted in an "…ethos that brought people together in the old yellow house to help companies achieve more...uplifting how we work." According the CEO Mark Mader in his inaugural keynote address. "We love surveys. We found that you spend 11-hours per week on repetitive tasks and routines. We grossly underestimated how changing the way we work would be disruptive…the web…how expectations had changed, etc." Loosely translated, Mader is saying, Smartsheet is trying to change work culture. I'd offer it's trying to do it in far less than one generation (for context, read this interesting article on how a reformed Poland took a 20-year generation to change its culture. http://www.modernsurvey.com/blog/20-years-for-cultural-change) "When Smartsheet was established, we sought to establish a new language for work." Mader said.
Ease of Use
Clearly the Smartsheet asset is its ease of use. "Smartsheet is about self-help and not taxing IT to work with a SaaS-based collaborative solution." Mader added.
Will a Robot Take My Job?
Mader's mission is automation. He hit the Robot fear factor head-on in his keynote. "People are receptive to automation - enables you without coding, to execute, etc. We believe the automation released today will take you to the next level." Mader is referring to the "Smartsheet Report: Automation in the Workplace 2017" which is survey results released at the conference. Two nuggets are:
65% of workers use some type of automation in their day-to-day work.
78% say automation will allow them to spend more time on the interesting and rewarding aspects of their job.
Bottom line
While the conference as customer facing with IT pros (e.g. Alaska Airlines employee), I can appreciate that spot opportunities for MSPs and partners exist. That's my next blog!