Looking back at the recent Lenovo Accelerate 2017 event in Orlando, I thought one executive conversation might be a fun exercise in letting the evidence take us where it leads us. Let's get started. If you are an MSP starting up or starting over, Lenovo might be a good fit.

Sammy Kinlaw, NA Channel Chief
Kinlaw is someone who takes fun seriously,
a man after my own heart. In his key note address, it was a lot of fun and giggles with the 10+ minute crowd pleasing foot stopping video. But in my 1:1 interview, the real Sammy came though. He fancies himself an energetic and articulate executive and for good reason – he is. "Different is better is our theme, based in part on attendee feedback from last year's Accelerate conference. We are different with respect to our competition, products, partners and messaging." Kinlaw shared. He went on to say that what his focus is: how do we keep growing? The answer is specialization. "Partners tend to be generalists." Kinlaw added. "They sell everything from Lenovo. I'm moving forward with a four point specialization strategy: servers, workstations, services and SMB."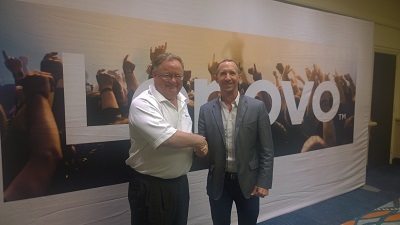 Let's look into each of Kinlaw's pillars.

Servers. The server groups is known as the Data Center Group (DCG) and has introduced a new server tiering model for partners: platinum, gold and silver. Part of the tiering motion is a partner's revenue clip and completion of online certifications.

Workstations. Lenovo boosts a full workstation line-up: mobile, desktop. "We have a 42% share in the commercial market." Kinlaw added. "Jimmy Holbert linkedin.com/in/jimmy-holbert-2043ba15 is responsible for the workstation coverage model. He's created a revamped program stack that is more lucrative for channel partners."

Services. Yes! Lenovo does have a professional services group but not on the scale that we've seen with other OEMs like HP, Dell and IBM. But this is significant. A few years ago, I interviewed Chris Frey, VP and GM U.S. Commercial Sales at Lenovo before his departure this past October. Frey said Lenovo looked to its partners to be its de facto consulting services business. This was very different from the other major OEMs. This has now been "updated" to say the least. "Our professional services group will be feet on the street and part of the Lenovo cadence." Kinlaw shared. "They will work with partners and customers."

SMB
"My boss, Lenovo North America president Emilio Ghilardi, has asked me to grow SMB." Kinlaw confessed. "Our SMB segment, when a Lenovo value-added reseller (VAR) involved, grew at 47%. And we want more of that." Kinlaw's secret SMB sauce? Keep an eye on the TopSeller focus model.