Long-time SMB Nation readers will recall my mobile phone journey from Apple to BlackBerry to Windows Phone. Today I'm limping along with an aging Nokia 1020 that I originally purchased for its state of the art camera (40+ megapixels). That's right
– my need with my phone beyond basic communication was to have a kick ass camera. Fast forward the movie and I'm shopping for a new mobile phone.
I've made the decision to roll with an Android-based phone that doesn't catch on fire. I need a superior camera, great sound and basic functionality and then some. I recently went on a first date with the Moto Z phone from Lenovo (Lenovo acquired the Motorola phone business October 2014).
Features
The Moto Z is a capable Android-based phone on its very own. But it's the Mods that add extreme value. My first need is a killer camera as I'm a blogger in the media. The camera Mod is based on Hasselblad True Zoom camera hardware and has the following features: 10x optical zoom, xenon flash, RAW format and easy sharing. My next need is sound. When I host a phone call on speaker, I need quality and volume (both missing on my Nokia 1020). The sound Mod (JBL SoundBoost) for the Moto Z uses JBL sound technology plus adds a ten hour battery boost. Imagine both a boom box and the world's best speakerphone on a mobile phone! There is also an InstaShare projector Mod that blew my mind. You attach it and you can illuminate a 70-inch screen, even in a light room, to display a PowerPoint deck or watching streaming entertainment such as a football game.
Take a Look
At the Lenovo Accelerate 2017 conference in Orlando last month, I walked the trade show floor and got a look at the Moto Z and its mods. I shot a vid here of the experience and I highly recommend you look at it.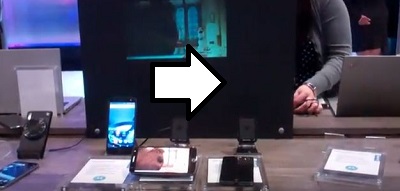 Drawback
Right now the Moto Z is only available with Verizon. Small problem in that I use AT&T. I was educated that you can use an unlocked version of the Moto Z with AT&T. However I don't like using unlocked phones because of support issues. (I had a family member use an unlocked BlackBerry Z90 that was programmed for Sprint that I "opened" using Unlock River. It allowed the BlackBerry Z90 to use an AT&T sim card but it downgraded the AT&T network coverage to 2G. A bit later, AT&T terminated its 2G network and rendered the unlocked BlackBerry Z90 useless. But I digress. I don't like unlocked phones however Lenovo reports that the AT&T version of the Moto Z phone will be out mid-year 2017. At that time, I'll seriously consider the Moto Z.
Next steps
Over the next several weeks, I'm gonna find a way to demo the Moto Z for two reasons. One is to provide an update to you, the SMB Nation reader. The second is to see if the Moto Z is indeed the phone for me when the AT&T compliant version releases later this year. Standby.