Ransom + ware = Ransomware (for newbies to the term) is a malicious software which hijacks your computer until a ransom has been paid. A ransomware attack typically denies access to one's own computer.
The mild ones will target useful files and certain applications. Most ransomware attacks are known to demand ransom in the form of cash, but Microsoft reports that there are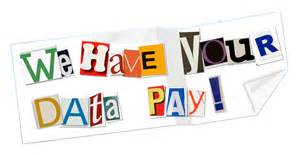 known cases where attackers request victims to complete surveys to regain access … bizarre, but nothing will be more irksome than doing everything a cybercriminal requested and still not gaining access to your computer; a phenomenon which should not be unexpected.
This malicious software, commonly used by cyberattackers, has gained momentum over the past year. As elaborated earlier, they are traditionally built to hold operating systems, files and applications hostage, but the cyberspace watchdogs are reporting on their threatening evolution; they are now designed to (in addition to blocking access to one's computer) steal personal and financial data from victims. Studies on cybersecurity suggest that cybercriminals building ransomware are adding more atrocious features to it. Malwarebytes State of Malware Report 2017 also reveals the possibility of ransomware making modifications to a computer's Master Boot Record (the part of a computer's system which manages booting into the operating system).
As cybercriminals are enhancing their malwares, security agencies are also working their fingers to the bone. Europol (European Police Agency), Intel and Kaspersky have already teamed-up to crack down on ransomware. They unveiled an online platform, called No More Ransom, to create awareness and help victims to regain access to their computers, programs and files without paying any ransom. Last year, the master decryption key of TeslaCrypt (a notorious ransomware) was released, rendering it completely useless. But the fact remains that as at November 2016, ransomware accounted for two thirds of all malicious attacks and that can only get worse, looking at how the malware has advanced from 2014 to 2016 (a Kaspersky report showed that ransomware attacks increased from 131,111 to 718,536 within that period). Lucky, referred to as the successor to TeslaCrypt, is continually evolving and menacing.
The United States suffered the most ransomware attacks in 2016 worldwide. To stay protected, back up files and apps regularly, if possible in the cloud as well and update software regularly. It must be acknowledged that very little attention is being paid to antivirus software; a good one represents the first prevention barrier to cyberattacks.