Many readers know that we've helped tell the attachedapps story at SMB Nation for the past 2+ years. It's a start-up that has "layered" on top of Office 365 with a -baby CRM- solution similar to Business Contact Manager (BCM) in the early 2000s. This past week, BoomTime announced
the acquisition of attachedapps to integrate it into its Marketing-as-a-Service (MaaS) play. I consider this a case of attachedapps starting over with a new life.
I have used attachedapps in a Big Data venture I'm involved in and I can honestly say I know the product intimately. Its paradigm was -shared contacts- for the GoDaddy-sized S of SMB. I've used it for its simplicity in a start-up where Salesforce or Dynamics would be overkill. Somethings I like (the reporting) and some things I don't (hard to customize). Overall I think it's a good move that attachedapps was acquired by BoomTime. To me, strategically, it's a case of a solution that has now found a home.
However, in the spirt of being independent and transparency, the attachedapps acquisition does raise concerns. It is not taking on new customers for now. The roadmap with respect to BoomTime integration is not published. Do existing attachedapps customers need the increased functionality of BoomTime? All valid questions.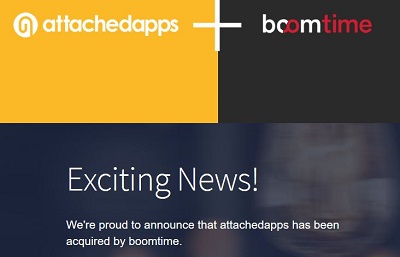 With respect to my continued use of attachedapps, I can tell you this. I'm in discovery mode with respect to what alternatives exist to migrate to. So far my research has led to Slingr from Idea2 and the amazing Grace Schroeder whom many SMB Nation community members know well. It's a fully customized CRM-like solution that is layered on top of Slack. I'll do a deep dive in a future blog on Slingr as it deserves standalone treatment. But I can tell you this. As I look at the possibilities, Slingr feels like I'd be leap frogging over traditional CRM solutions that have a legacy feel. It's just frickin cool. Think of it this way. In the early days of Small Business Server (SBS), one of my worldwide tours took me to El Salvador. There were few landlines, and primarily mobile phones. Why? Because after the 12-year Salvadoran Civil War the country rebuilt and leaped frogged right up to mobility. Great in earthquakes and the rebels can't cut the landlines is how it was explained to me.
BONUS: Attend our MSP M&A (Part 2: Sell-Side) webinar this Thursday at Noon Pacific (GMT-8), August 18, 2016. Sign-up HERE.
Analyst Discolure: I hold stock options and am in investor in attachedapps.