There is a source of ready cash to inject into your MSP bank account with very little effort. It's a one-time payout that I'll describe in a moment but first let me set the table with some context.
In the Managed Services Provider (MSP) community in the small and medium business (SMB) space, the flashy trend is to receive payment for your services over time as monthly recurring revenue. In no way I am suggesting you stop pursuing those goals as it's smart money and increases the value of your MSP practice should you want to be acquired (that's called capitalizing income into value).
However, receiving a lump sum of cash upfront today should also be part of your business portfolio mix. That's because cash in-hand is still king in the pandemic recession. Plus an upfront payment is a way to diversify systematic risk (systematic risk refers to risk inherent in the entire market or market segment such as a virus-based pandemic). Loosely translated, upfront cash in your hip pocket today is money now and not subject to future stuff that could include the loss of some of your long-term clients under contract (it happens for sure).
The main point is this. Have balance in your cashflow planning by mixing cash payouts today with ongoing income streams. It's how I manage SMB Nation.
What is this easy money that I view as an MSP stimulus? It's a function of a partner program by our good friends over 8x8 (a Unified Communicatiosn community sponsor for MSPs). It's easy. You refer an SMB client to 8x8 and you get paid immediately. It's simple and there is more good news. As you know already, with the new "abnormal" work environment highlighting remote work (which shows no signs of abating), there has been a surge in UC consumption. MSPs that are adding what is essentially "voice" to their traditional "data" services and solutions have done very well over the past year and will continue to do so. The marriage between voice and data has FINALLY happened even if it took a global crisis to get voice and data to the alter.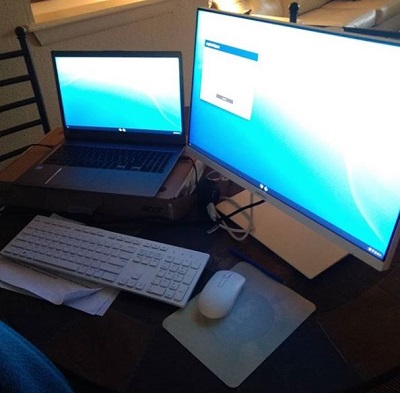 Remote work looks like this!
And Another Thing!
For some SMB Nation members, working with voice/VoIP/UC/UCaaS is old hat. But did you know that you might be suffering structural revenue dilution if you are engaged with a Master Agent in the telecom space. Why? Because when there are too many cooks in the technology kitchen, everyone gets a bite of the apple along the way. Best practice? Work with strategic partners that engage in a "value given, value received" living theology so that you are motivated to engage and enjoy the equitable rewards that you have truly earned.
Final Thoughts: NPV
Many readers know that over the summer of 2020 I wrote my 24th book – "The Pocket MBA – Instant Entrepreneur" to get the SMB Nation community of MSPs to start thinking about business with as much excitement and enthusiasm as thinking GEEK! Our market segment is maturing very quickly and you need to at least know the language of business to be successful moving forward. The word of the day is Net Present Value (NPV). NPV is the difference between the present value of cash inflows and the present value of cash outflows over a period of time. Econometrics aside, what NPV is really saying is cash-in-hand today is valued more handsomely than future inflows because of the risk those future inflows might not materialize (e.g. you get fired by your client). Ergo – another reason the 8x8 partner referral program demands your immediate consideration. You read it here first!
Resources
Learn more about 8x8 Referral Portal HERE.