By Rene Reinsberg, General Manager/Vice President of Product, GoDaddy


I am in Boston on a business trip and as I am walking down
the street between meetings, my smartphone suddenly vibrates with a notification:
"Rene, it's been 4 weeks since your last haircut. You have 1.5h until your next meeting. 5-star rated Judy's Hair is nearby and is available right now. Say "book appointment" and get a $10 discount."
Of course I go ahead. The above scenario from the not-too-far-away future is just one of the many examples and use cases that will impact how the world's small businesses, in particular brick-and-mortar businesses like Judy's Hair, will attract and retain customers. It's a radical change from how customers used to connect with businesses; it is the Discovery Marketing revolution.
What has changed? I would have traditionally noticed looking in the mirror in the morning that my hair is getting too long and hence concluded that I need a haircut soon ('intent to purchase').
Assuming that I was happy with my usual hair salon and they had availability, the 'discovery' and 'selection' steps would have been limited. However, I may have heard or read about a better place ('discovery') or in a scenario where I was not satisfied with my usual choice or where there was no availability, I would actively engage in 'discovery', leveraging a variety of signals (local search, social, ads, coupons) that eventually lead to a decision ('selection') and booking of an appointment ('purchase'), likely via phone.
Illustration 1 below shows how the typical customer journey is changing.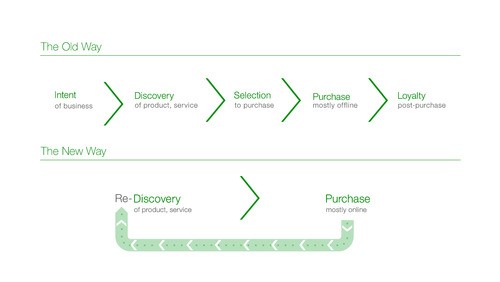 Illustration 1: Typical Customer Journey – Traditional vs. Discovery Marketing

A New Category
The ways consumers find information about businesses and connect with them is changing. It has always been clear that 'discoverability is key – both offline and online', particular for brick-and-mortar businesses like Judy's Hair. Forrester was among the first to use the termDiscovery Marketing to acknowledge how consumers' behavior has been changing with respect to discovering businesses online:
"Where natural search results once were the primary way users discovered content or websites, now non-search engine media such as mobile apps, social networking sites, and consumer review hubs are veritable contenders in consumers' paths to discovery. […] To ensure that SMBs are "findable" across all different types of media, we believe that we must shift the scope of our work (on behalf of the SMB) from just buying paid search ads and conducting SEO projects to enabling brand discovery — a practice we've dubbed "discovery marketing"
Having been helping local businesses get found with Locu, and now GoDaddy, I couldn't agree more. I want to take this a step further and extend the framework by calling out five principles that my colleagues and I see at the heart of Discovery Marketing: mobile, multi-channel, actionable, controllable and measurable. GoDaddy CEO Blake Irving gave a sneak preview of this framework during his keynote at the recent BIA/Kelsey conference in San Francisco.
While I have no doubt that we will see a lot of great innovation around new self-serve marketing products in the industry, these five principles should provide a long-term framework for any business running marketing campaigns and any vendor building discovery marketing products by taking into consideration a mix of consumer behaviors as well as the business' standpoint.
Mobile
94 percent of smartphone owners look for local information on their phone, according to a study by Televox. Due to the rise of smartphones and smart devices – think Google Glass, navigation system in cars, smart watches - the time between intent and purchase is being compressed; often intent is sparked and satisfied in close-to real-time. Another recent study reveals that when consumers use mobile search to help make a decision they are 57% more likely to visit a local store and 39% more likely to call a business.
Mobile goes hand-in-hand with local. Geo-targeting, i.e. the ability to advertise to consumers based on their location, as well the real-time consumption aspect allow for easier customization and optimization of marketing campaigns.
The rise in mobile devices – think of the number of local businesses who now use internet-connected tablets as point-of-sale - is also helping bring business data online, enabling the above scenario where appointment availability is accessible in real-time to consumers.
Multi-Channel
According to a recent report by Black Box Media, 92% of consumers use online directories to research businesses in their local areas. The average searcher uses 2.5 different types of sources when looking for local business information. For local business owners, getting found on search engines, directories and social sites, like Facebook, has become de facto mandatory. Given the numerous platforms and channels, aggregation is important to streamline efforts and help SMBs save time.
Actionable
In the above example of the haircut, I was able to book the appointment right after finding out about the business. When consumers search for local information online, 70 percent end up connecting with the business. The increasing availability of (internet-) connected devices in small businesses, fueled by rapid growth of tablet-based Point-of-Sale and loyalty systems, is making it increasingly possible to connect consumers and businesses, beyond the phone call.
Controllable
Describing a scene from the movie Minority Report, GoDaddy CEO Blake Irving highlighted the importance of the user being in control and surfacing content based on a set of events and criteria, such as time of day, calendar entries, and location. "The way we actually intelligently filter [content] and allow the user to be in control is going to be a necessity for [Discovery Marketing] to take off", said Irving during his keynote speech at the recent BIA/Kelsey conference in San Francisco.
Measurable
Coming from a world of $10,000 newspaper ads with limited ability to track performance, small businesses want simple metrics to track campaign success; there is a trend of replacing brand dollars with metric-based spending. A significant portion of local businesses interviewed by Street Fight as part of their Local Merchant Report 2013, said that 'direct ROI is the No. 1 most important factor in deciding to run a local marketing campaign'[8]. Simply put, Judy's Hair should have an easy way to see how well marketing campaigns work, e.g. how much it costs to acquire me as a customer or what an incremental $500 per month mean in terms of new customers.
Conclusion
We are at the beginning of an exciting, new chapter in the history of marketing. During the last decade, companies like HubSpot reinvented marketing for larger SMBs, coining the term 'Inbound Marketing'. The next decade is about enabling smaller SMBs, the hair salon at the corner and the car repair shop down the street. In a recent survey, 76% of SMBs said 'attracting new customers' is the #1 topic that keeps them 'up at night'. We believe Discovery Marketing products will help SMBs grow their businesses without losing sleep