Blog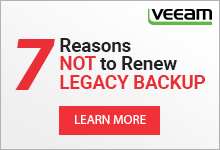 This week we focus a Veeam - a deidcated community sponsor who get's SMB Nation! Here are seven ways to leave your lover and come over to Veeam!
01 - Availability vs. Legacy Backup
Veeam is a solution that was specifically designed for the modern, highly virtualized hybrid cloud world. It allows you to meet aggressive SLAs for IT service recovery that can be measured in seconds and minutes versus the hours and days often required by legacy technologies.According to the 2017 Veeam Availability Report, Veeam customers meet their recovery time and point objective (RTPO™) SLAs 90% of the time compared to only 69% with their previous legacy provider. Veeam was built to manage the amount of data found in the data center of today — not the ones of yesteryear.